PREP-VILLA ANNOUNCES SEISMIC CHANGE
Anne-Marie Welsh
11/17/2020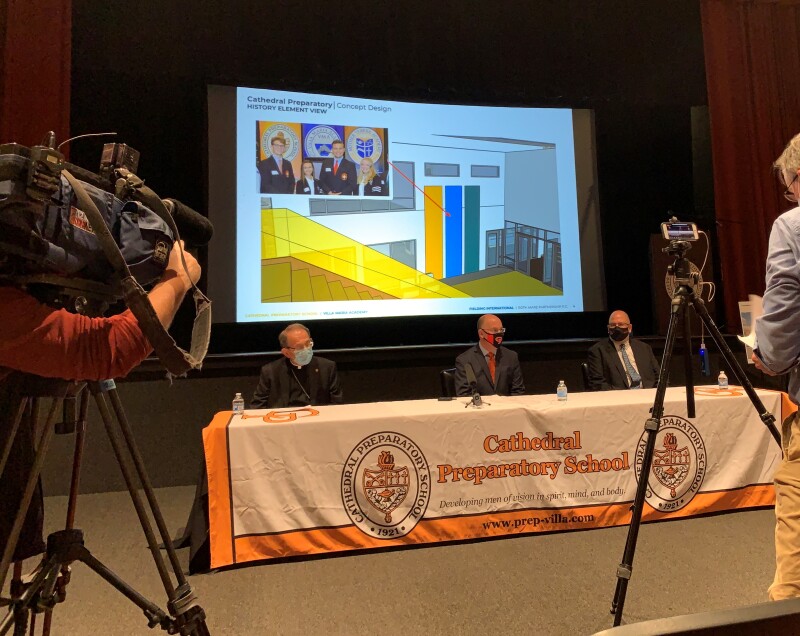 ERIE — Generations of students who have attended the all-male Cathedral Preparatory School and all-female Villa Maria Academy might never have thought they would see the day, but it's true: both young women and young men will begin attending classes together on the same campus in downtown Erie beginning in September 2022. The news that students from both campuses soon would be attending classes at the renovated Cathedral Prep site came in a series of announcements beginning with a virtual town hall for students and alumni on November 11, followed by a news conference November 12.
"I think it's exciting. I honestly wish I had more years, because I think it will be a great experience," said Sarah Clark, a sophomore at Villa Maria Academy who will a member of the first co-ed class to graduate in 2023. Acknowledging classmates are feeling emotional about the change, she is undeterred.
"I think as we keep talking about it, people will start to get excited," she said. "We need to come together as one."
Details of the initiative were rolled out during a news conference featuring a virtual tour narrated by Chris Hagerty, president of both schools as well as Mother Teresa Academy. He said that the 33-member task force — including board members and representatives from both schools who unanimously supported the decision to make the move — carefully considered both campuses before deciding to invest in the downtown Erie site.
"We believe in being in the middle of the city," Hagerty said in an interview with the Diocese of EriE-News after the announcement. "Our partnership with Gannon means so much to us. Our proximity to Mother Teresa Academy and to the tremendous investment being made in Erie will help create internships and opportunities for our students."
Villa Maria Academy and Cathedral Prep merged into a single school with two campuses 10 years ago when the Sisters of St. Joseph handed responsibility for the academy, which was founded in 1892, to the Diocese of Erie. With the latest announcement, Villa Maria students in particular took to social media to voice their concern about what initially felt as though their legacy would be erased. Hagerty, who graduated from Cathedral Prep in 1975, acknowledged that change is difficult and that it will take time for alumni, faculty and students to embrace the concept.
"We are reimagining and reinventing how we approach education," he said, explaining that students will have the opportunity to study in tracks preparing for health sciences, engineering, information technology and more. "But at the end of the day, the mission hasn't changed," he said. "We are a Catholic, college preparatory school." He pointed out that students will be able to choose the course programming that's going "to take them to where they want to be in their senior year to get a leg up on college," while emphasizing the school's basic commitment to its Catholic identity.
The Most Rev. Lawrence Persico, bishop of Erie, said the initiative has his total support.
"I am grateful for the recommendation of the board and of the school's president," he said in a statement released during the news conference.
"This is an important step to support and enhance Catholic secondary education in the city of Erie. The hopes of those who came before us, including Archbishop John Mark Gannon who founded Cathedral Preparatory School, and the Sisters of St. Joseph, who guided generations of students through Villa Maria Academy, will continue to be realized."
He called the investment "a strong vision for the future," and noted that area families seeking a Catholic education "are extremely fortunate they will continue to have options."
Jim Gallagher, superintendent of schools for the Diocese of Erie, also voiced his support.
"This is a bold and important step for Prep/Villa," he said, noting he is pleased the school is responding to the changing circumstances within the community and the needs of Catholic education. "This move contributes to the overall vision of Catholic education in the diocese and creates exciting possibilities for future students."
For more details about the plans, as well as a virtual tour and list of FAQs, visit https://www.prep-villa.com/about-us/cathedral-prep-campus-consolidation-plan


-