Refugees, parishioners trek through forest, visit Kinzua Dam
05/25/2018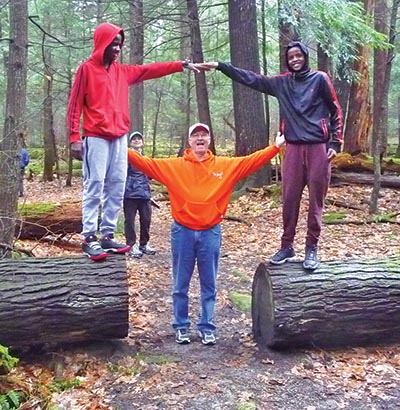 Father Jim Gutting, pastor of Holy Redeemer Parish, Warren,
enjoyed a hike with refugee students through Allegheny National
Forest May 12. Standing with Father Gutting are Kassem
Abdullahi, left, and Abdi Welli Aden, both from Somalia.


Fifteen refugee youth from Ukraine, Bhutan (Nepal), Somalia, Eritrea, and a family visiting the area from Chile, enjoyed exploring the forests of Warren County and the region's popular Kinzua Dam May 12.
A group of local parishioners and residents worked together to make the visit possible.
Inspired by a small faith sharing group session before Easter, parishioners from Holy Redeemer Parish in Warren invited the refugees to the area with the assistance of Erie's Multicultural Community Resource Center (MCRC).
The agency helps families from strife-filled foreign countries to settle in the United States.
MCRC helps families eliminate barriers, teaches English, provides life skills and employment classes and assists with social adjustment to America. Early employment is a key step toward this adjustment and self-sufficiency.
Of the Warren outing, Paul Jericho, MCRC associate director, said, "They [the refugee youth] don't have many good memories, and they will remember this."
The students were accompanied by four adults on their trip to Warren. They met Dave Sherman, executive director of the Warren County Visitors Bureau (WCVB), as well as a core group of Warren hosts, including Holy Redeemer parishioners Rose Mazzocchi, Regina Jabo, Steve Warner, Mary Massa and Bill Massa, and Holy Redeemer's pastor, Father Jim Gutting.
Fifteen of the refugee youth currently live in Erie.
"The kids were well-mannered, attentive and appreciative," Bill Massa said. "They seemed to have really enjoyed the day."
The group visited the Hearts Content National Recreation Area (HCNRA) of the Allegheny National Forest, where volunteers Chuck Keeports and Sylvia Grisez led the group on a hike.
The one-mile loop winds through a virgin timber forest of 400-year-old trees. Everyone on the trek learned about tall white pines, hemlock and beech trees, in addition to the plant-life, including fiddlehead ferns.
A bag lunch prepared by Jennifer Bliss of Warren was served at the HCNRA pavilion, with Father Gutting offering the blessing. Later, the group drove to the Big Bend Visitor Center of the Kinzua Dam and Allegheny Reservoir. The young people learned about the history of the dam.


-