SIMPLY CELEBRATING: DIOCESE OF ERIE LAUNCHES WEBSITE WITH CREATIVE WAYS TO CELEBRATE ADVENT AND CHRISTMAS AT HOME
Anne-Marie Welsh
11/24/2020
ERIE — Did you know there are Christmas carol sing-alongs online you can enjoy with friends and family over Zoom? Were you aware of the "Spread the Love" campaign created by the Diocese of Erie's Faith magazine, complete with templates for writing letters to loved ones or to those seeking help at various charitable organizations over the holidays? Are you interested in a listing of all the Masses being offered in parishes and via livestream in the diocese on Christmas Eve and Christmas day?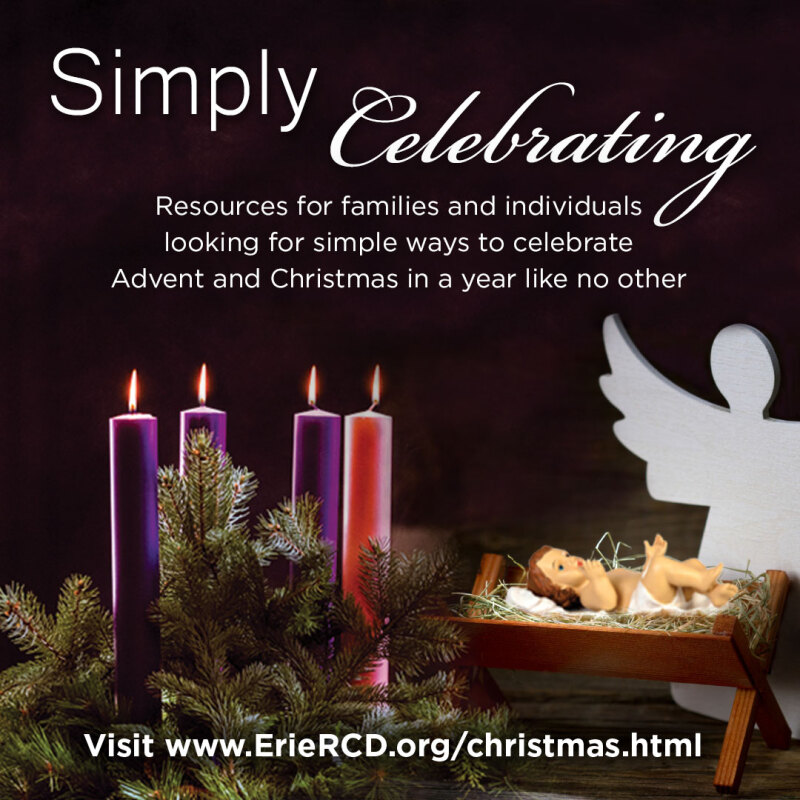 These resources and more are now available at Simply Celebrating, a new micro-site launched by the Diocese of Erie to help people fill Advent and Christmas with meaningful and fun activities in a year like no other. Find it at www.eriercd.org/christmas.html.
"People are experiencing the impact of the pandemic in different ways," says Deacon Steve Washek, executive director of the Faith Formation Office for the diocese. "Those who have small children are finding different challenges than those who have parents in nursing homes. But one thing is for sure: Advent and Christmas will not be the same for people this year."
The team, therefore, opted to create a menu of ideas from which people could choose.
"It's easy to think about the negative aspects of the pandemic," Deacon Washek says. "And I don't mean to minimize it; for many people, this is significant and serious. But we want to encourage people to find the opportunity in it as well. How can we use this moment to deepen our relationship with our family and with our church?"
Deacon Washek also said focusing on simplicity made sense.
"We thought about that very first Christmas," he observed. "Mary and Joseph were away from their families, too. They must have known the ache and longing we all feel to return to the way things were."
Among the offerings on Simply Celebrating is a link to "Home for Christmas," featuring ideas from the Faith Formation Office built around a different theme for each week in Advent: hope, peace, joy and love. Each week's plan includes a suggested Scripture and prayer followed by activities that involve all the senses. Week one, for example, offers thoughts on how to do an outdoor prayer walk while week two explores the idea of painting "Baby Jesus Rocks" to place around the community as delightful surprises for others to discover. The third week suggests hosting a hot chocolate gratitude party with members of your household or using technology to include others. The series concludes with week four offering instructions on creating an old-fashioned popcorn garland for the tree, as well as a video reading of a special Christmas story.
"We see this as a beginning," says Deacon Washek. "Our goal was to inspire people and to give them some tools. But we look forward to seeing the ways in which people are inspired to celebrate. Throughout December we'll invite them to post on our Facebook page. That's one way we can help them bring light to people during this Advent and Christmas season."
On Dec. 10, the site also will launch a listing of Christmas Eve and Christmas Masses at parishes around the diocese.
"We know it's important to help people find what they need in one place, rather than having to search parish by parish," says Anne-Marie Welsh, director of communications for the diocese. "We want to be as welcoming as possible. If people haven't been to Mass in recent months, they may not be aware of the protocols that are in place as a result of the pandemic. Some parishes are asking people to call ahead so they can ensure each Mass has enough space for proper social distancing. And for those who prefer to remain at home, we'll have a list of Masses that are being livestreamed."
Welsh also noted that Erie's WJET-TV, with the help of Gannon University, will once again broadcast Midnight Mass from St. Peter Cathedral.
"We are so grateful for their generosity, and pleased to say it also will be livestreamed so the entire diocese will have access to it," she said.
Simply Celebrating can be found at www.eriercd.org/christmas.html. Check back frequently throughout December as new resources will be added throughout the month.
-