SUMMER OF 2023 BRINGS ANOTHER SIGNIFICANT ROUND OF CLERGY APPOINTMENTS
By Anne-Marie Welsh
06/19/2023
A substantial number of clergy assignments were announced at parishes across the diocese this past weekend. They fell into two different categories: those whose assignments were renewed and those who received new assignments.
"The reason we have so many appointments this year is that after the first round of pastoral planning in the fall of 2016, we established several new parish configurations," said Father Nicholas Rouch, vicar for the Office of Clergy. Pastors for those parishes were appointed in February of 2017. Since the standard term for priest assignments is six years, all have come up for renewal at the same time.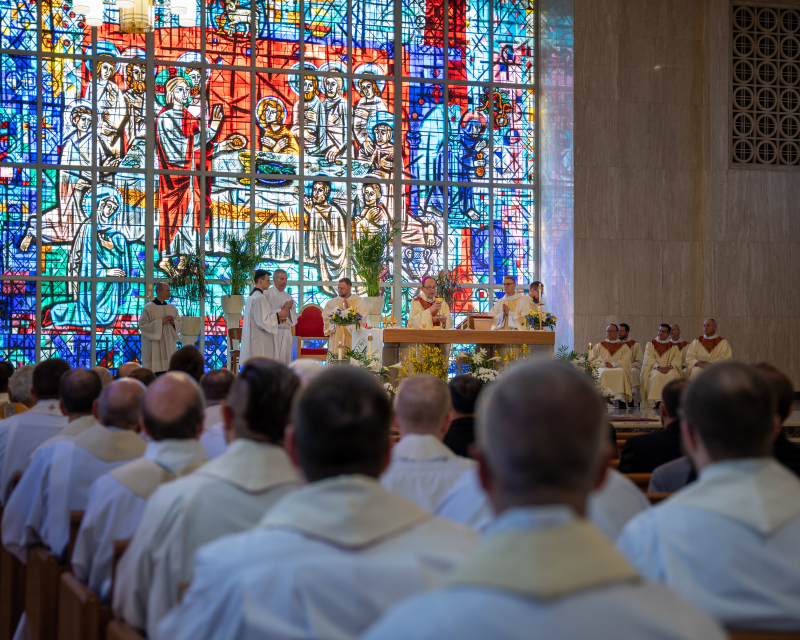 For the past several months, Father Rouch has been working closely with Bishop Persico on the assignments. Through surveys and personal conversations, pastors were able to weigh in on how their assignments were going, if they felt it was time to move on or if they were interested in staying in their current parishes. Members of the Clergy Personnel Board also were consulted.
"Based on all that information, Bishop Persico has renewed 23 pastors for six-year terms," Father Rouch said, acknowledging that a pastor who reaches the standard retirement age of 75 during his term retains his prerogative to retire during that tenure.
Father Rouch said that as pastoral planning continues throughout the diocese, it's possible some assignments will need to be adjusted.

"Six-year terms are a goal," Father Rouch said. "That gives both the pastor and parishioners a sense of stability and continuity. But we also have to respond to our ever-changing realities."
Several priests are receiving new appointments with this round of assignments.

"These new appointments are based on the emerging needs of our parishes, ongoing pastoral planning and the gifts and needs of individual priests," Father Rouch said. "Often a change stirs up some eagerness, a renewed pastoral fervor. It's a new opportunity and I think there's a growing sense of a missionary spirit among our clergy. They understand the great pastoral need and are generous about going places that are new and unfamiliar to them in response to that need."
Father Rouch, who is himself accepting a new assignment as pastor of St. Julia Parish in Erie along with his new role as vicar general effective July 19, said that while a new assignment unsettles the practical matters of life, it invigorates pastoral creativity.

"It can give us a renewed sense of why we are diocesan priests to begin with," he said. "I would even call it a charism. As diocesan priests, we surrender our availability to the needs of our people. We go where we are needed."
The full list of clergy announcements released this week can be found here.
-