Serra honors, clergy, religious, lay person
06/08/2018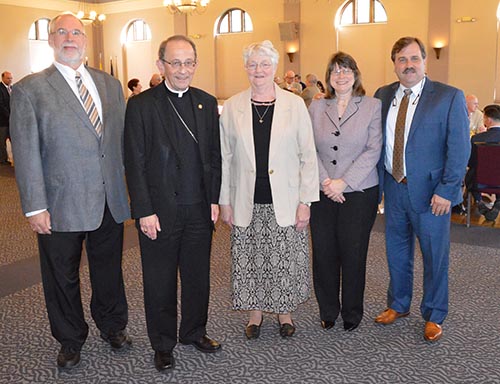 The Serra Club of Erie recognized the contributions and good works of a religious sister, a lay person and members of the clergy June 5 at its annual banquet in the Yehl ballroom at Gannon University.
Bishop Lawrence Persico was presented this year's Achievement Award for Outstanding Priest.
In presenting the honor to the bishop, Serra President Charlie Rutkowski noted that Bishop Persico has exemplified the finest qualities necessary to lead the Diocese of Erie the past five years.
"He [Bishop Persico] has been a true priest in offering his vocation to Christ in service for the people of God in our diocese," Rutkowski said. "In these times of challenge and change, he governs and leads with steadiness, commitment, determination and humility. His faith guides us to keep our eyes fixed on Christ as we look to the future."
The following is a complete list of 2018 Serra Club Achievement Awards for Outstanding Service:
Sister Clare Beichner, SSJ
Religious of the Year
Deacon Denis Coan
Deacon of the Year
Bishop Lawrence Persico
Priest of the Year
James Speice
Layperson of the Year (posthumous).