THREE EVENTS, ONE HEART: UNITED CLERGY OF ERIE MEMBERS ADDRESS RACISM
Sheila Grove, Mary Solberg and Anne-Marie Welsh
08/11/2020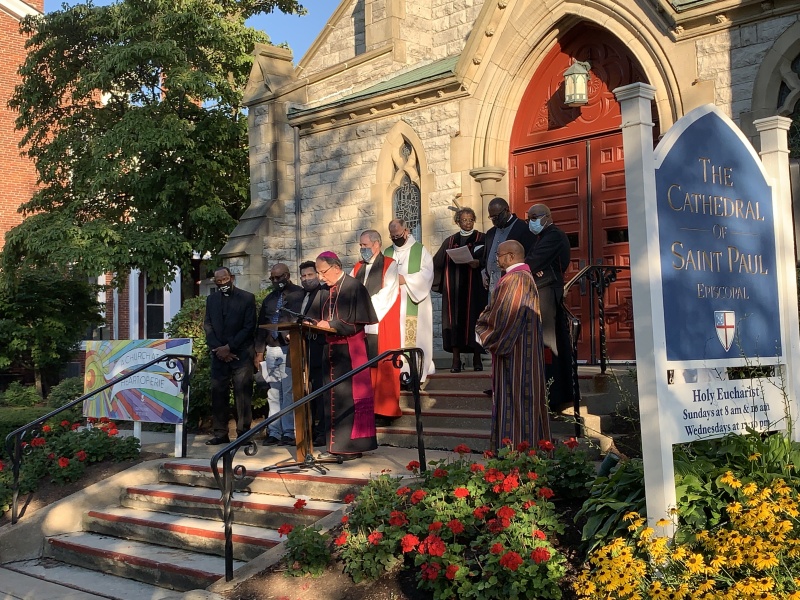 ERIE — It was an historic week for United Clergy of Erie as the group's focus on racism took center stage in three arenas: politics, prayer and service.
          The effort began when the ecumenical coalition of religious leaders joined Erie Mayor Joe Schember and other municipal leaders at the mayor's weekly press conference August 6. Bishop Dwane Brock of the Victory Christian Center used the occasion to announce a prayer service of repentance planned for the following evening.
           In his remarks, Bishop Brock noted the disproportionate impact of COVID-19 in African American and other minority neighborhoods in the city of Erie. As part of its commitment to solidarity, he announced the group also would lead an effort to distribute masks and educational material to residents in affected areas on Sat., August 8. The effort was made possible, in part, by the Hamot Health Foundation's donation of over 20,000 masks.
           Also speaking at the news conference was Bishop Lawrence Persico, who referred to racism as another pandemic.
          "We, as white clergy, realize that just issuing statements is not enough. We must put our words into action to reconcile ourselves with our African American sisters and brothers and do all that we can moving forward," he said. He called the planned events "two steps on a long journey that we need to make to end the racism that is still prevalent in our society."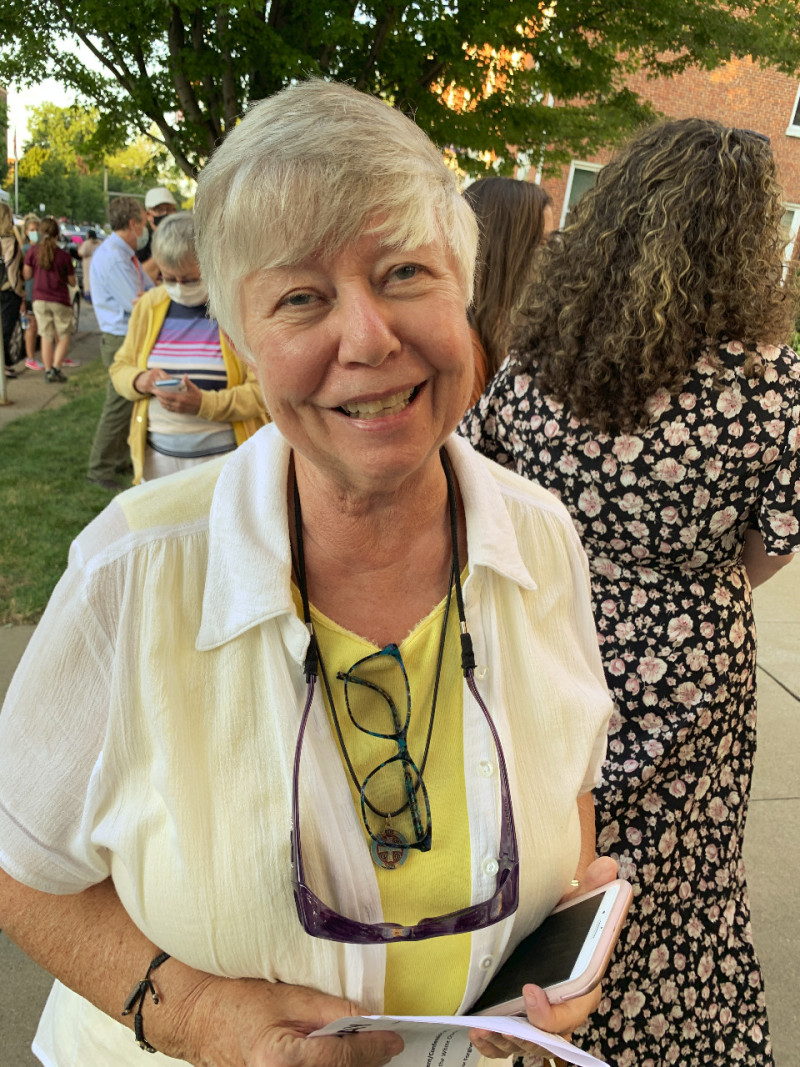 "This is what we need, big time," Sister Marian Wehler, OSB, said in the wake of the outdoor prayer service of racial reconciliation held on the steps of St. Paul's Episcopal Cathedral in downtown Erie Aug. 7. "We have a long road," she acknowledged, "but we need to keep the momentum up, keep the love in our hearts, and dare to get into that good trouble!"

          Sister Marian was riding the wave of hope and fervor that swept through an earnest crowd of about 80 people of faith gathered in front of St. Paul's on West Sixth Street. They came to listen, to pray and to find direction in addressing a complex American issue.

          Bishop Brock said he was bubbling over with joy seeing "God's rainbow of people" as he opened the prayer service, calling it a momentous occasion. One by one, he invited fellow clergy to offer their thoughts.

          After a welcome by Episcopal Bishop Sean Rowe, Bishop Persico shared a statement of purpose for the gathering. Expounding on a theme he first introduced at a protest rally earlier this summer, he emphasized that while efforts must be led and accompanied by prayer, they also must include concrete action.

          "The failure to act to end systemic racism, which is often animated in our laws, policies, and structures, hurts those who are victimized and denies all of us the opportunity to benefit from the gift of diversity," he said. Calling people to wake up, stand up and speak up, Bishop Persico told the crowd, "This is how we love our neighbor as ourselves. This is how we act like Jesus."

          The 45-minute service included a powerful acknowledgement and confession of sin, a litany of transgressions offered by the Rev. Melinda Hall, dean of Erie's Episcopal Cathedral of St. Paul. She spoke of harm, negligence, greed and self-interest. She decried failures, inequalities and frustrations. She confessed injustice, false peace, blame and fear. And she asked for mercy for those who have failed to act with courage for the sake of love.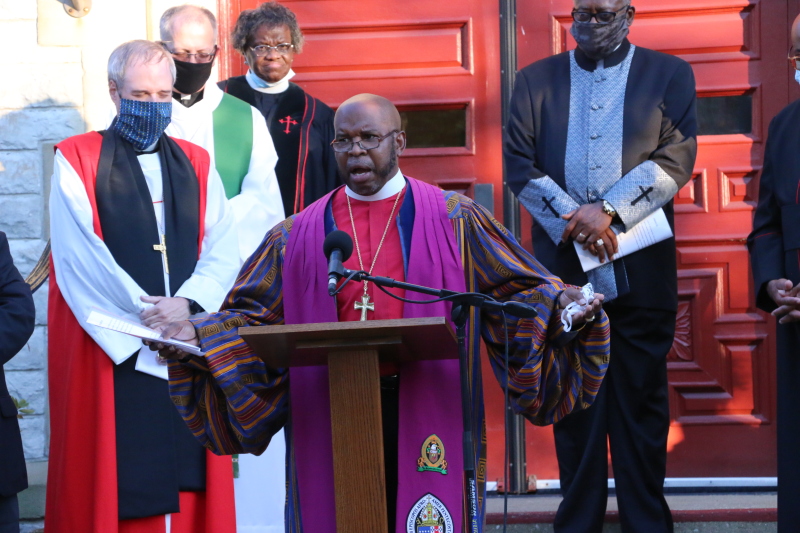 The response to that confession was acceptance of the apology by both Pastor Danny Stanton of Friendship Baptist Church and Rev. Amos Goodwine Jr.

          "Make no mistake," Rev. Goodwine said. "Forgiveness is for our own growth and happiness." He said forgiveness frees people to live in the present and to regain their personal power.
          The evening closed with a call to action from the Rev. Michael Lozano, bishop of the Northwestern Pennsylvania Synod of the Evangelical Lutheran Church in America, based in Sharon. Referring to a national statement his church had issued, he repeated a sentiment he'd heard about it: "Nice words. How are you going to back them up?"
          In answer to the question, he invited the crowd to participate in the service project planned for the following morning. The event was designed to bring people of faith together to share information and resources concerning COVID-19 throughout an eastside neighborhood that has suffered disproportionately from the effects of the pandemic.

          "We get to live together those words of John Lewis and make some good trouble together," he said. "That's our call to action."

          Among those in attendance at the reconciliation service was Mayor Schember who told the Diocese of EriE-News the service had been a very moving experience.

          "I never would have thought this would happen in my lifetime," he said, "but it just happened. It's only a first step, but it's a huge first step toward eliminating racism and prejudice in Erie." Calling it his top priority, Mayor Schember said, "If I accomplish nothing else, I want every individual in Erie to be accepted for the talents and skills that they have. This was a very huge step in that direction."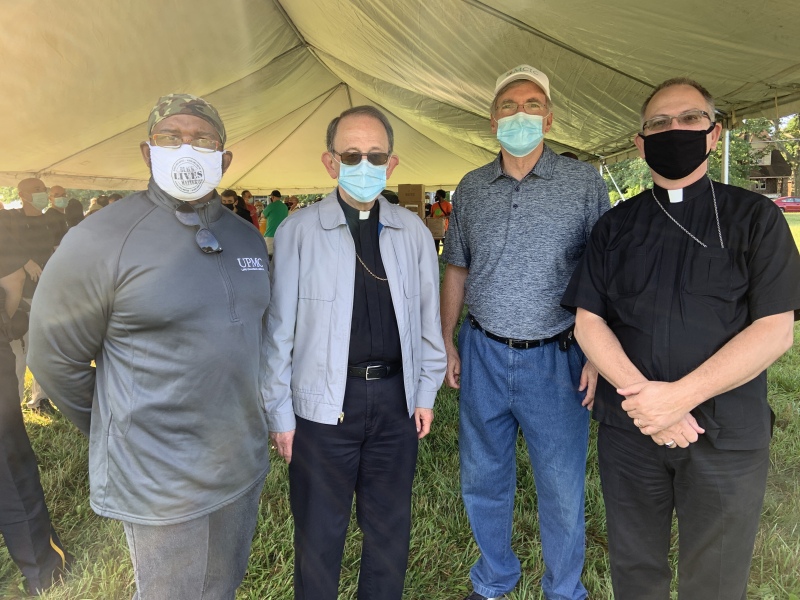 The next day, United Clergy of Erie leaders, including Bishop Persico, began their work together for justice, participating in the community service project on Erie's east side.

          Up to 100 people of various faith traditions and races went door-to-door distributing masks, signs and other information to stem the spread of COVID-19.

          Bishop Persico rode in a City of Erie fire truck through Erie neighborhoods, helping firefighters hand out safety information to residents.

          "It was wonderful to see people from different churches and races in our community, along with the police and fire departments, come together to show our unity and support for our neighbors," Bishop Persico said. "It was a great experience." 
          Mayor Schember, a lifelong Catholic and member of Sacred Heart Parish, Erie, also took part in the initiative. He lauded Bishop Persico's efforts to unite people of diverse backgrounds.

          "Bishop Persico is helping to lead us down a path that is hopefully going to eliminate racism and prejudice in Erie," Schember said. "Everybody's got something to offer and I think [Bishop Persico] sees that."
          During the gathering at E. 22nd and Wallace streets, Bishop Persico stood with volunteers and other civic and faith leaders, including Bishop Dwane Brock and Bishop Michael Lozano.
          "This is a visible sign that we can come together and not only suppress the pandemic, by handing out information and masks, but to combat the pandemic of racism, showing that we don't need to be a divided community," Bishop Lozano said.
-