U.S. CATHOLIC KOREANS ALREADY PLANNING TRIP HOME FOR WORLD YOUTH DAY IN SEOUL
By James Ramos, OSV News
08/07/2023
LISBON, Portugal (OSV News) — When Pope Francis announced that the South Korean capital city of Seoul would host World Youth Day 2027, Rosemary Shin realized she might make a special homecoming trip in 2027 to South Korea and let out a raucous cheer, waving arms and pumping her fists in the air.

Then suddenly, Shin, a parishioner at Holy Angels Korean Catholic Church in Philadelphia, found herself flying several feet in the air after being picked up and lifted onto the shoulders of a nearby pilgrim, also hooting in celebration.

"What wonderful news that we are going to bring this (special event) to Korea," Shin said, adding that it would be like a homecoming.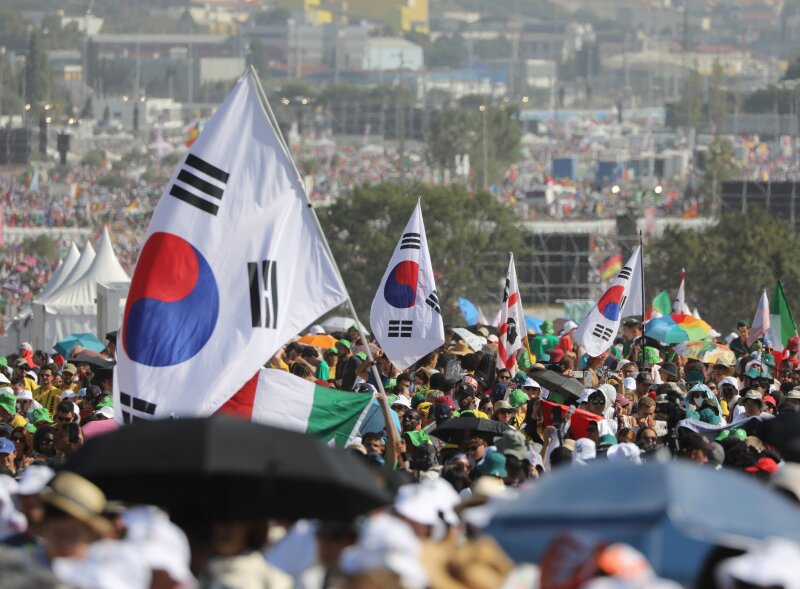 A few days earlier, when the 23-strong pilgrim group of Korean American Catholics from Philadelphia arrived in Lisbon, their parochial vicar, Father Gookson "Martin" Joo, gave some them a tipoff that South Korea might be welcoming pilgrims in Seoul in a handful of years just like Lisbon did.

Waving a small South Korean flag, Sung Choi, also a parishioner at Holy Angels, said she couldn't believe it.

"It's very emotional," Choi said. Remembering a group of youth who were supposed to join them in Lisbon but were unable to come because they were sick, she said she was excited to share the news with them back home in Philadelphia.

"In 2027, from the western border of Europe, (World Youth Day) will move to the Far East, and this is a beautiful sign of the universality of the church and the dream of unity of which you are witnesses," the pope said right after announcing that WYD is traveling to Asia.

Pilgrims who were not from South Korea seemed to be cheering just as loud, if not a bit louder than Anna Kim and her fellow Korean parishioners. Though her group had slimmed from 23 down to just seven for the final Mass on Aug. 7, even with seven, their happy eruption and roar of celebration was a magnet for neighboring groups.

Two Spanish pilgrims came over and shared their joy, speaking in part English and Korean, as they had previously been teachers living in Korea.

Father Joo, sporting the white World Youth Day bucket hat given to all pilgrims, beamed with a bright smile, greeting his newfound friends who all said they were eager to visit South Korea.

"I love the support that everyone gave us when they announced Korea," Kim said, as pilgrims from the surrounding groups came by in waves to celebrate the announcement. "It's really nice."

Lisbon was the first World Youth Day that the parish had banded together to attend, and Choi said it was a "meaningful trip."

In South Korea, 5.7 million Catholics make up just over 11% of the country's total population of 52 million; they are led by some 5,700-plus priests across 1,784 parishes, according to Agenzia Fides.

The Catholic Church in South Korea is however the most trusted religious group on the peninsula, according to a recent survey — 21.4 percent of respondents to "2023 Korean Church Social Trust Survey" revealed that they had more trust in Catholicism compared to other religions in the country, according to UCA News.

Shin, still cheering and high-fiving other pilgrims, said even though Korea is a small country — "we are very proud and are very excited to welcome the pope and all the pilgrims."

Located in Philadelphia's Koreatown, Holy Angels Korean Catholic Church is home to more than 2,000 parishioners who worship in Korean at some five Masses every weekend led by four Korean priests. In 2021, the parish welcomed 10 new catechumens, an indication of the Korean Catholic communities' growing numbers.

At a press conference just hours after Pope Francis named Seoul as home of the 2027 World Youth Day, Archbishop Peter Chung Soon-taek of Seoul said even though "only a small number (of Koreans) are Catholic … I think the Catholic Church in Korea has a very strong spiritual power."

And Shin and her fellow Korean Catholics said they are ready.

"Our group is very small, but we want to share this energy and we want to spread this joy to our whole community," Shin said, after coming back down to the ground. "We're looking forward to it."

South Korea's pop culture has surged into international mainstream media, with the country's television shows, K-Pop music and dances regularly becoming viral, topping music charts around the world.

In Lisbon, South Korea sent the most pilgrims of any Asian country to World Youth Day 2023. More than 1,050 South Koreans joined the 1.5 million in Portugal, according to media reports.
-