U.S. CATHOLIC SCHOOLS SEE STRONG GROWTH, FORMING CHILDREN 'WHO LOVE JESUS CHRIST'
By Gina Christian
08/29/2023
(OSV News) — As they open their doors for a new academic year, the nation's Catholic schools are enjoying overall strong growth, along with a firm commitment to mission, experts told OSV News.

"Our school system has grown two years in a row," said Lincoln Snyder, president and CEO of the National Catholic Educational Association.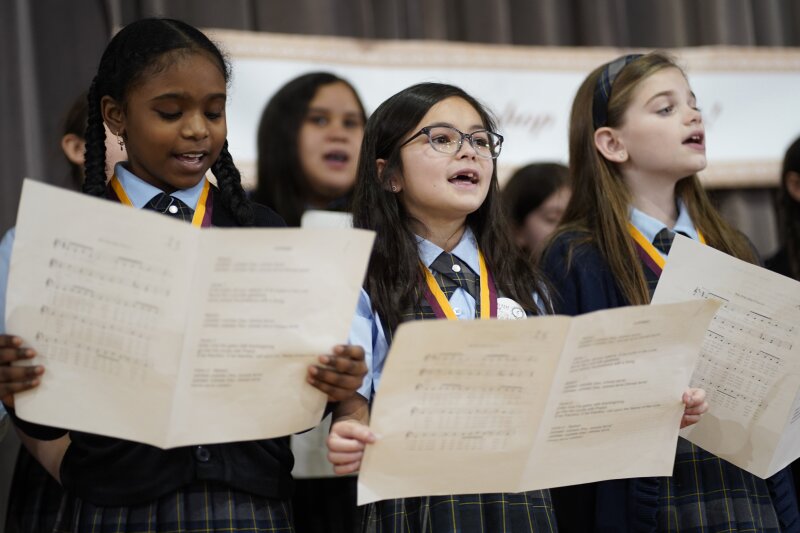 Based in Leesburg, Virginia, the NCEA, an organization which traces its origins to a 1904 conference held in St. Louis, represents close to 140,000 Catholic educators serving 1.6 million students.

Snyder told OSV News that Catholic schools in the U.S. on balance experienced a bump in enrollment amid the height of the COVID-19 pandemic, with a 3.8% growth from 2021-2022 and 0.3% growth during the 2022-2023 year.

In addition, "most retention rates are pretty high," said Snyder. "Dioceses last year retained 93% to 98% of students who came (during) COVID."

The Diocese of Arlington, Virginia, for example, has seen a three-year rise in enrollment, with the overall student population — now at 18,400 in 41 diocesan schools — up 10% since the 2020-2021 academic year.

Snyder attributed such sustained growth to factors that transcended the pandemic.

"By all indications, families who came to Catholic schools were very happy with the community and they established relationships" with the schools, he said. "Once people have children in a positive environment, they tend not to change it."

At the same time, some Catholic schools saw an uptick in numbers due to straightforward demographic shifts, he said.

While declines "tended to be in the Northeast and the Midwest ... most of our growth was seen in southeastern Florida, and some in the (U.S.) Southwest," said Snyder.

"We've recovered from the pandemic and then some," said Jim Rigg, superintendent of Catholic schools and secretary of education for the Archdiocese of Miami. "We have the highest enrollment in eight years, up about 3.6% year over year."

One formerly closed school — St. Malachy in Tamarac, Florida — has even reopened for the 2023-2024 academic year after a 14-year hiatus, he said.

Rigg cited an influx of new Florida residents as one factor in enrollment surges. According to the U.S. Census Bureau, Florida is the nation's third most populous state, as well as the fastest-growing one.

"Substantial numbers of people move here from the northern U.S., and we have continuous waves of immigration from Latin America and the Caribbean, the majority of whom identify as Catholic," he told OSV News.

Christopher Pastura, superintendent of Catholic schools for the Diocese of St. Petersburg, Florida, agreed. He said Florida's "robust school choice programs" also have worked to fill classrooms.

"Florida has moved to a 100% choice scholarship program, so everybody has access to that regardless of income," Pastura told OSV News. "It's helped our low- and middle-income folks be able to afford a Catholic school education."

Making Catholic education accessible to students with disabilities also is key, said Andrew McLaughlin, secretary for elementary education at the Archdiocese of Philadelphia.

"We are really pushing for full inclusion for children with disabilities, rather than have separate schools for them," said McLaughlin, whose schools have seen strong growth and — in contrast to national trends — little learning loss during the COVID-19 pandemic, as evidenced by standardized testing.

"Ensuring every school can support students with identified special needs is a vital part of our Catholic mission, to serve all who wish to come to our schools," said Rigg.

Along with expanding access, school administrators with whom OSV News spoke are focused on addressing both mental health and school security concerns.

While their students are not immune from national increases in mental health challenges -- a trend highlighted by Surgeon General Vivek Murthy in a 2021 advisory — Catholic schools, equipped with psychological and spiritual resources, can provide a strongly supportive environment for students and families navigating such issues.

"Often we hear families say, 'Thank God this happened in a Catholic school, because there is a community of care,'" said Rigg. "(The) community will rally around a family in crisis."

School security also is a priority for Rigg, given the 2018 mass shooting at Marjory Stoneman Douglas High School in Parkland, Florida, which killed 17.

"That weighs heavily on the psyche of everyone in South Florida," said Rigg, whose safety investments include on-site police officers, cameras and enhanced standards for ensuring campus doors are locked appropriately.

But the biggest draw at many schools is the fundamental nature of Catholic education itself, said experts.

"When you create the type of Catholic culture that people want to be part of, you don't have to worry about enrollment," said Kevin Ferdinandt, headmaster of St. Agnes School in St. Paul, Minnesota.

The preK-12 school draws students from dozens of area ZIP codes, drawing from "a really broad area" and functioning "a lot like a regional school," he told OSV News.

Admitting that St. Agnes had "almost closed in 2007" due to financial struggles, Ferdinandt said the school revisited its roots — and bore fruit as a result.

"We've got a very clear mission, and we serve Catholic families that are really serious about engaging their kids in education, and making sure their kids get a chance to learn what we as Catholics really believe," he said. "If we're going to call ourselves a Catholic school and not be serious about teaching the faith ... then we're just private schools with a religion department. We worked hard for a lot of years to establish an extraordinary student and faculty culture (of Catholic education), and with that came the success of our school."

"Our first role as Catholic schools is forming disciples," said Snyder. "We are a ministry of the church, and we want to form children who love Jesus Christ."
-