VATICAN CLINIC EXTENDS HOURS AHEAD OF WORLD DAY OF THE POOR
By Cindy Wooden
11/13/2023
VATICAN CITY (CNS) — Idris, who sleeps on a sidewalk a couple blocks from the Vatican, waited more or less patiently under the colonnade surrounding St. Peter's Square to speak to his physician, Dr. Massimo Ralli.

The doctor was giving interviews Nov. 13 about the Vatican's "Madre di Misericordia" (Mother of Mercy) clinic while Idris waited to get a nasal spray to help with his cold.

Ralli, director of the clinic desired by Pope Francis and established by Cardinal Konrad Krajewski, the papal almoner, said the number of poor seeking assistance each month has increased continuously since it was opened in 2016.

"We're seeing about 1,500 people a month now. A year ago, it was 700 patients," he said. Sixty physicians volunteer their services at the clinic each month, along with dozens of nurses and lab technicians.

In the week before the Catholic Church's celebration Nov. 19 of World Day of the Poor, the clinic was offering extended hours and visits by a variety of specialists, including cardiologists, psychiatrists, dentists, pain specialists, gynecologists and podiatrists.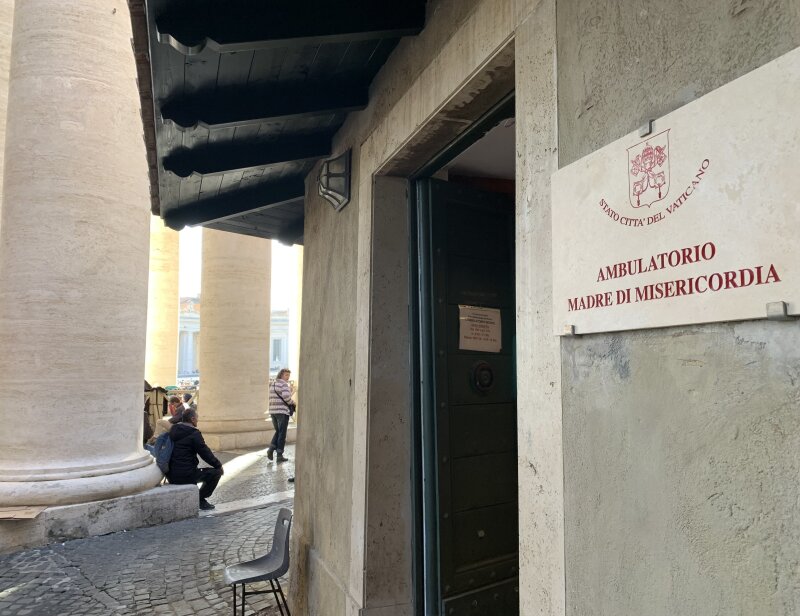 Most of the patients come in with problems related to sleeping under the colonnade or on the street, Ralli said, such as colds, pneumonia, joint pain and toothaches. But the medical exams also can reveal heart problems, diabetes and tumors.

Running the clinic and seeing patients, he said, "is something beautiful because it allows you not only to treat disease, but to offer yourself in service."

The clinic serves as a first aid station and as a general practitioner's office, offering physicals, blood tests, vaccines, ultrasounds and common prescription medicines. The doctors also do referrals for patients who need hospitalization or more specialized care.

Dr. Paolo Silli was one of the volunteers almost from the beginning at the clinic located in a former Vatican post office, right next to the showers Pope Francis had installed for the area's poor.

"People ask if it wouldn't be better to set up a clinic somewhere else," he said, "but the pope said he wanted it here at St. Peter's Square."
-