VOCATIONS DIRECTOR SUMMITS MOUNT KATADHIN
Anne-Marie Welsh
09/17/2019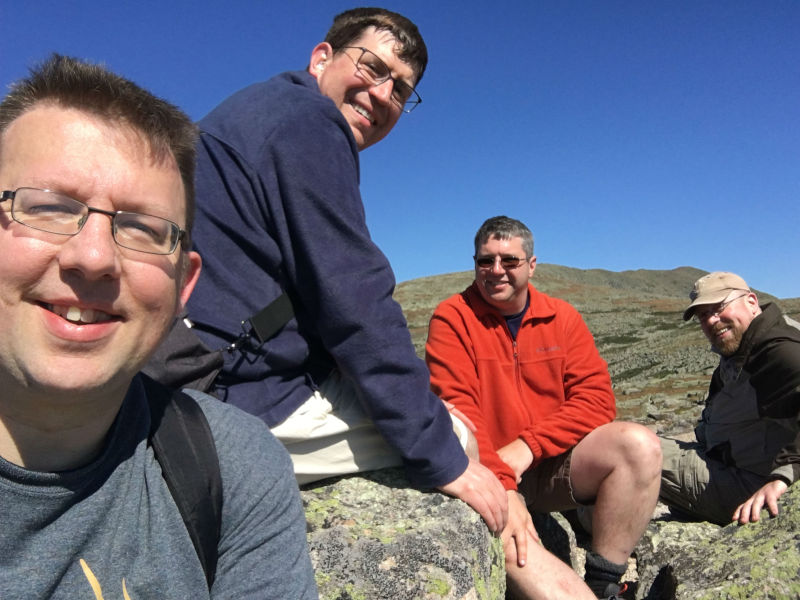 It all started over Thanksgiving weekend 2018. Four guys got together to remember their time in school, enjoy a little bowling and a nice dinner out.

Actually, the evening had begun with holy hour. These four guys are priests: Father Michael Polinek, director of vocations for the Diocese of Erie; Father Bill Barron, pastor of two parishes in the Reynoldsville/Sykesville area; Father Dan Hoffman, pastor of Our Lady of the Lake Parish, Edinboro; and Father John Paul Kuzma, OFM, Cap., an Erie native who is now ministering as a Capuchin Franciscan in Pittsburgh. They'd all come to know each other well while discerning their vocations at St. Mark Seminary in the Diocese of Erie.
Over dinner, the group pulled out their calendars and committed to vacationing in Maine the following September. One thing on the agenda: climbing Mount Katadhin. At 5,267 feet, it's not only the highest peak in Maine, but also the end of the Appalachian Trail.

"That hike is not a nature walk," says Father Polinek. "We needed time to get in shape for it."

A little research backs up his statement. New England Today likens its trails to "a game of rocky hopscotch," and the mountain is home to the treacherous Knife Edge Trail.
The week included three hikes in all, along with celebrating Mass and praying the Divine Office daily.

Father Polinek allows that prayers may have been offered during the Katadhin hike, as well.

"There were a few times when I was climbing over boulders or close enough to a ledge that I wondered what the bishop would think about all this," he admits. "There were definitely points where you sure didn't want to slip."
But the hike and the satisfaction from summiting were worth it, he says.
Another highlight? The sense of community shared among the guys.
"Coming together in community is always a good thing," Father Polinek says. "You take a step back from your ministry, and you're able to examine it. One night we had a bonfire, and I had a chance to ask the others, 'If you were vocation director of one week, what would you do?'"

Lively conversation was an important part of the vacation.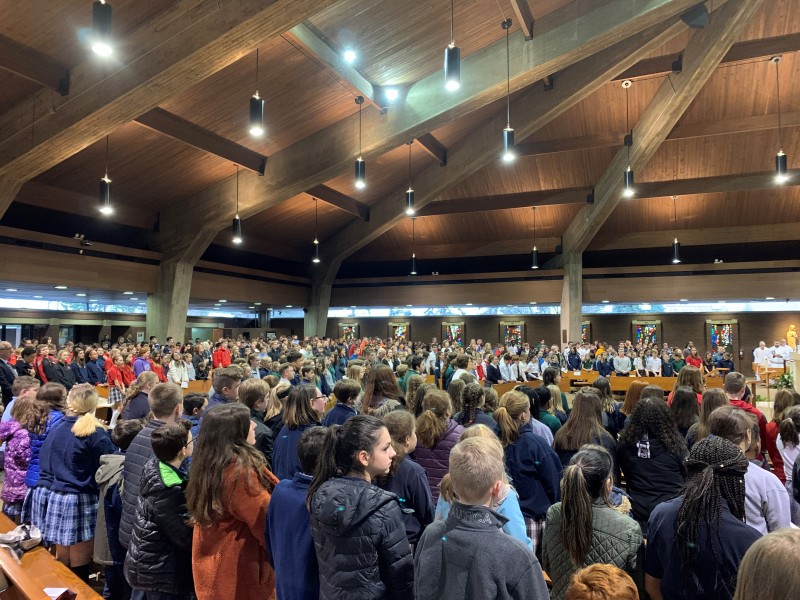 "We had a chance to build each other up as brother priests, to share the ups and downs," Father Polinek says. "In Scripture, we see Jesus send the disciples out, and then they come back to him and report what they've done. This gave us a chance to come back to fraternity and to share those moments."
-