Family Prayers and Activities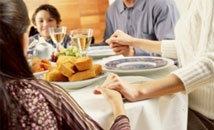 There has always been a tradition of family prayer in Catholic homes. For many generations it was popular to pray the rosary together. In recent years some families have begun reading scripture as a family. Many families continue to pray at table, either in the form of spontaneous prayer or a more formal prayer ("saying grace"). At bedtime, many parent(s) bless their children and pray with them. Catholic homes are also graced with the use of sacramentals on a daily basis, especially the burning of a candle and use of holy water." (Dues, Greg., 1992. p. 34)
Best Picks & Resources
(Books, Media & others):
Chesto, Kathleen O'Connell. Family Prayer for Family Times. Mystic. CT.: Twenty – Third Publications. 1998. (Highly recommended – reflects variety of everyday events and activities of the family with prayer and spiritual reflection for each).
Today many families have trouble finding the time to pray together. Even if they would like to, it is sometimes hard to know where to begin. Praying with Your Children contains many creative strategies for praying with children from infancy through high school. Five different age levels are treated in separate chapters. The author gives dozens of concrete holistic strategies that are sensitive to the physical, psychological and spiritual development of children.
At Home with our Faith Chicago, Il.: Claretian Publications. Published 9 times / year - $9.00 subscription. (Liturgical and seasonal articles for parents with family activities).
Channing Bete Prevent Child Abuse America help children build character skills that support a positive learning environment -- and healthy peer relationships!
Diocese of Erie Media Catalog:
(Videos/DVDs must be rented through your parish Religious Education Leader)
#441 Building Families of Faith & Outreach
#972 Family Communications: Effective ways to Talk and Listen.
#952 How to Pray as a Family.
#932 Prayertime, Familytime.
#2502-05 Parenting by Heart: …
Online: