24 Hours for the Lord
March 22-23, 2019
Please join the Diocese of Erie and St. Peter Cathedral, Erie, in celebrating
24 Hours for the Lord
. Encounter Jesus Christ anew in the Sacrament of Confession and Eucharistic Adoration.
This is an extraordinary opportunity to pray for vocations to the priesthood and religious life, as well as for victims of sexual abuse, and at the same time to experience Jesus' mercy by taking advantage of the Sacrament of Confession. The Blessed Sacrament will be exposed and confessions will be available throughout this 24-hour period.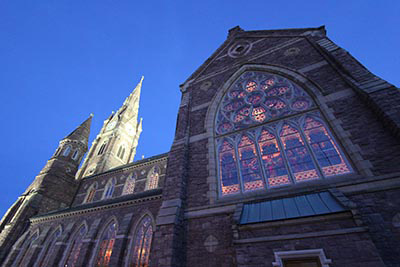 St. Peter Cathedral, Erie

EVENT SCHEDULE
FRIDAY — MARCH 22
5:15 p.m. Mass with Bishop Persico as Celebrant/Homilist
Following 5:15 p.m. Mass, exposition of the Blessed Sacrament
7:00 p.m. Evening Prayer
10:00 p.m. Night Prayer
SATURDAY — MARCH 23
3:00 a.m. Divine Mercy Chaplet
6:30 a.m. Morning Prayer
8:00 a.m. Mass with Bishop Persico
12:00 p.m. Rosary
3:30 p.m. Benediction
4:00 p.m. Vigil Mass
Please take time out of your busy schedule to stop and visit with Jesus and receive His love and forgiveness.

DOWNLOAD/PRINT