Discernment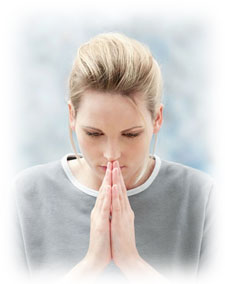 Discernment is the process in which we sift through all of the information available to us in order to find, as best we can, where the spirit of God, the spirit of truth, may be leading us. It combines heartfelt desire and prayer in your thinking. Attempt to get in touch with the direction of the Holy Spirit in your life as you make an important decision.
Discernment is the prayer of attention to God's activity in our lives, when we invite God to show us the direction our lives should take in carrying out God's will for us here on earth.
Praying for direction from the Holy Spirit in our lives does take time. Be attentive to ways you find indications of what you might be called to do and, openness to what your heart seems to be drawing you toward. Talk with someone you trust for insights, suggestions and ask for support and prayers.
This is a sample of a prayer that might fit your needs:
Dear Jesus,
I thank You for the gifts You have given me, especially for life, love, family and friends.
As I pray and make decisions about my life's work,
help me to learn about the choices before me,
to listen to advice and to pay attention to my own feelings.
By following this path, may I hear Your call to a lifestyle that will lead me to a happy, committed and meaningful life.
If I am being called to be a woman religious,
grant me a generous heart to respond to Your call.
Give me the courage to follow You today as You lead me to tomorrow.
I ask this in Your holy name. Amen.

"May God enlighten your inmost vision that you may know the great hope to which you are called."
— Ephesians 1:17, 18


The five "D's" of discernment:
1. DESIRE
Begins with a sincere desire to do that which would be most pleasing to God
It is a gradual process
2. DETACH
Coming to a point of radical openness—are we willing to trust that God will lead?
We give up the natural tendency to resist, to prejudice the decision with our own wants and needs.
3. DECIDE
"I will do what God wants."
The decision in discernment to do the will of God comes before knowing the specific direction, which the will of God will take.
Check out the will of God first and then decide if you like it or if you will do it.
4. DELIBERATE
The point at which you weigh the options and gather as much information as possible
You trust your own intuition of what God is doing in you, remembering that God's direction often comes in gentle ways.
5. DO IT
At some point we must act.
We live our life in relation to God on the trust that God accepts the sincerity of our efforts.
The outcome of a discernment is two-fold:
a. A particular direction is determined
b. Our relationship with God has become more intimate.
Interior Freedom for Discernment
Become peacefully and quiet
Both externally and in the depths of yourself.
and after a few moments of enjoying your stillness,
become aware of God's loving presence.
Recall the words of Jesus about setting the captive free and bringing life in abundance.
Ask yourself: What would it be like if I were free...
of all the things that inhibit me?
of all the things that constrict me?
of all that translates to "shoulds, oughts, and musts" in my life?
of worrying, stewing?
of needing to be right?
ask for the grace to be free.
Consider the decision before you.
Spend some time with this choice and attend to how you feel regarding it.
Do you experience any resistance to this position?
What is the nature of the resistance?
Could it be coming from your own unfreedom?
Share all this with someone who has your interest at heart—
Outside advice is often very helpful.