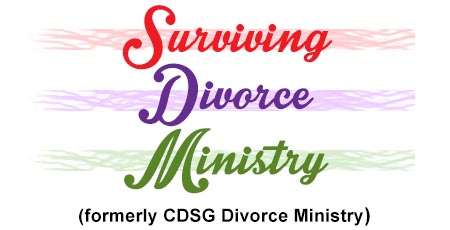 As public health concerns limit in-person gatherings, Surviving Divorce will be on hold until at least Spring 2022. In the meantime, if you are struggling to cope with divorce, we encourage you to consider the resources at The Divorced Catholic, which includes an online class and community. You can find out more at https://divorcedcatholic.com/programs.
---
Surviving Divorce Ministry will help you:
Discover how to work through the emotions of separation and divorce
Experience personal healing and hope
Gain wisdom and comfort from others who share your experiences
Address questions of forgiveness and new family dynamics
Obtain an understanding of the annulment process
---

Common questions from the Surviving Divorce website, www.catholicsdivorce.com:

We're only separated...Now what?
Why do I hurt so much?
Why I am I taking longer to heal than others?
What can I do to feel better?
Where can I go for help?
If God is good, why did He allow this divorce?
I just can't forgive; is that wrong?
I have so much guilt. What can I do?
I don't trust the Church, and I haven't been to Mass for years...
Where can I learn more about Catholicism?
I'm furious, what can I do with this anger?
How do I help my kids?
How do I stop my kids from acting out?
My adult children are still angry or hurting!
How do I handle my difficult ex?
Help! I'm drowning in debt.
What will happen in court?
But what about child support?
How do I deal with all this fear?
Can I still receive Communion?


---

Kate Wilson, Director
Family Life Office
429 E. Grandview Blvd.
P.O. Box 10397
Erie, PA 16514-0397
Phone (814) 824-1261 • 800-374-3723
Fax (814) 824-1264