CATHOLIC COMMUNITY AT CORNELL RESPONDS TO HATE POSTS WITH PRAYER, OUTREACH
Mike Latona
11/07/2023
ITHACA, N.Y. (OSV News) — Just how deeply can words pierce? A troubling gauge surfaced at Cornell University during the final days of October.

That's when several online posts threatening extreme violence against Jews on campus were discovered. The threats — which law enforcement traced to a Cornell student and resulted in his arrest — touched off fear and anguish across the Ivy League institution, prompting a notable police presence in the ensuing days.

The incident reflected the religious and ethnic tensions, often involving Jews and Muslims, that have escalated at colleges nationwide since the Israel-Hamas war began Oct. 7.

The Cornell Catholic Community has responded to the recent crisis with extensive prayer and outreach.

During the 10:30 a.m. Sunday Mass in Sage Chapel Nov. 5, celebrant Father Daniel McMullin praised students for "the kindness you have shown one another, especially to our Jewish friends and Muslim friends."

Kevin Salazar, student president of the Cornell Catholic Community, said it's imperative for his fellow Catholics to set aside religious and political differences at such a pivotal time.

"To support those who are made vulnerable, that's what Christ would do," remarked Salazar, 20.

According to an FBI report filed Oct. 31, the bureau received a call from Cornell University Police that an anonymous online post had been made Oct. 29 stating that somebody was "gonna shoot up 104 west" — referring to Cornell's 104 West dining hall, which specializes in kosher food.

The FBI said that later on Oct. 29 it became aware of more threatening messages on a college-related discussion forum. They included an Oct. 28 post in which a writer threatened to stab and slit the throats of male Jews; rape female Jews and throw them off a cliff; behead infant Jews in front of their parents; and "bring an assault rifle to campus and shoot all you pig Jews."

The FBI said it traced the posts to Patrick Dai, a 21-year-old Cornell junior from the Rochester suburb of Pittsford. The FBI report noted that Dai admitted to making the graphic posts and was arrested Oct. 31, on charges of making a threat using interstate communications. Dai appeared in federal court in Syracuse Nov. 1, was being held without bail and was suspended from Cornell.

Salazar, a senior from San Diego, called the messages "a shock — a new level, not a general antisemitic trope. It was a very clear, direct threat without any sort of window dressing or dog whistle. It's just unreal."

"The level of hatred was so contrary to Christ's messages of peace and accepting your neighbor," remarked Colin Murphy, 19, a member of the Cornell Catholic Community's service committee.

"Ugly, just ugly," added Father McMullin, director of the Catholic communities at Cornell and Ithaca College, shaking his head.

The disturbing incident prompted an Oct. 30 visit to Cornell from New York Gov. Kathy Hochul.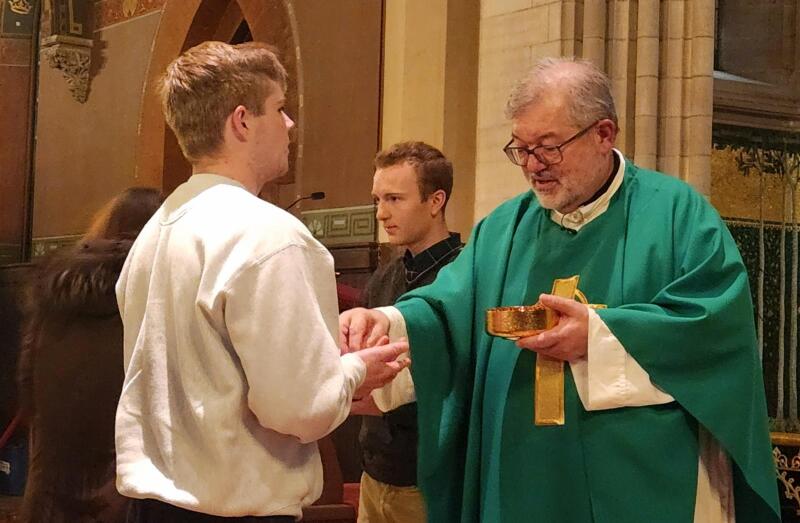 Security on campus was ramped up, particularly in areas frequented by Jewish students, such as 104 West and the adjacent Cornell Center for Jewish Living.

Father McMullin told the Catholic Courier, Rochester's diocesan newspaper, that police were stationed at Anabel Taylor Hall, where offices of Catholic, Jewish and Muslim life are all located near each other. "We've always had a positive relationship," he said.

Salazar, a close friend of William Barkoff, student president of Hillel at Cornell, said Barkoff "was obviously quite distraught" about the hate posts. Salazar added that Barkoff and other Jewish students skipped classes and avoided being out in public all week.

According to Hillel International, a Jewish campus organization, there are approximately 3,000 undergraduate and 500 graduate Jewish students at Cornell, comprising 22 percent of the student body.

Murphy, a Cornell junior from Philadelphia, said fear enveloped the entire campus. "There was definitely tension until that person was actually caught. I didn't feel like we were safe from the possibility of violence."

"Everyone was on edge. No one knew how serious the threat was," Salazar observed, citing a spate of shooting massacres in recent years at U.S. colleges, high schools and elementary schools. He added that it's disheartening for Cornell to be the subject of international headlines for all the wrong reasons.

Due to widespread distress about the posts, Cornell officials canceled classes Nov. 3, when the Cornell Catholic Community was involved in several prayerful and supportive initiatives. The regularly scheduled 12:15 p.m. Mass that day — celebrated in the Anabel Taylor Hall chapel — included special readings for times of war or civil disturbance. Father McMullin said the liturgy was attended by approximately 35 people, three times the normal number.

"The Mass is the highest and most effective way Catholics and, indeed, anyone can work for peace," remarked Matthew Hall, associate director of the Cornell and Ithaca college Catholic communities.

The Cornell Catholic Community also conducted its First Friday Holy Hour in the chapel beginning at 5:15 p.m. Hall noted that Catholic students were invited to hang out in the building during the afternoon and invite their non-Catholic friends, including those who showed up for other Friday prayer services — Shabbat for Jewish students and Jummah for Muslims. In addition, Salazar attended the Shabbat dinner that was open to non-Jewish members of the Cornell community. He noted that Cornell University President Martha Pollack also attended the dinner.

On Nov. 1, Hall added, Cornell Catholic Community's weekly Wednesday night community dinner featured discussion about Catholics' relationships with the Jewish and Muslim faiths.

During that event, Father McMullin discussed the Second Vatican Council documents Dignitatis Humanae (Declaration on Religious Freedom), and Nostra Aetate (Declaration on the Relation of the Church to Non-Christian Religions) — promulgated in 1965 by St. Paul VI — affirming the right of all to religious freedom and calling for healthier relations between Catholics and adherents of non-Christian religions.

Whereas the hateful posts attributed to Dai by the FBI have triggered a new level of tension at Cornell, Father McMullin said that for several weeks students have been sharing concerns with him during pastoral counseling, spiritual direction and confession about what they perceive as rising hostilities on campus.

"The Middle East, and the recent spate of incendiary and hate speech, has been a part of nearly every conversation," he said.

Yet leaders of Cornell Catholic Community refrain from offering opinions about who is right and wrong when it comes to politics and war, Father McMullin added.

"It isn't our place to pick sides. It's our place to be pastoral, sensitive and aware," he explained.

In a Nov. 1 statement, meanwhile, Pollack said the university will continue to address antisemitism in programming, speakers, policies and support services.

"We will not tolerate antisemitism at Cornell; indeed, we will not tolerate hatred of any form, including racism or Islamophobia," she stated.

Her stance was welcomed by Murphy, who said that "as a campus, we need to do a better job" of having open, respectful and peaceful dialogue about religion and politics.

"The bedrock of good democracy is peaceful debate," Salazar agreed.


Mike Latona is senior staff writer at the Catholic Courier, newspaper of the Diocese of Rochester.
-