GIVING BACK TO THOSE WHO HAVE GIVEN SO MUCH
By Melanie Sisinni with the National Religious Retirement Office and the Diocese of Erie
12/06/2022
The Diocese of Erie has been richly blessed by the tireless work of women religious throughout its history. They established and staffed Catholic schools, ran hospitals, started service organizations and spearheaded many community projects to help beautify, rejuvenate and help those who are most in need. But now, it is the religious communities that need assistance to help support their retired members.
The reality is that after years of service and work with little to no pay, and no pension plans or 401(k) options, the average retired woman religious receives only $7,326 in annual Social Security benefits, whereas the average US beneficiary receives $19,896. Meanwhile, the annual cost for their care in 2021 was roughly $50,000 per person. Many small religious communities struggle to care for retired members due to a lack of financial resources and personnel.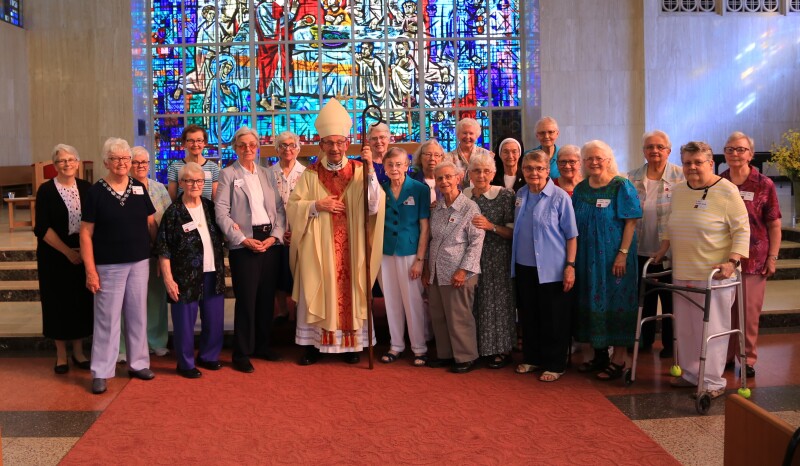 The weekend of December 10-11, the Diocese of Erie will participate in the national Retirement Fund for Religious Collection. All donations will go toward helping religious communities care for senior members while continuing important ministries.
Throughout their lives, retired religious have worked in many different and unexpected fields to serve God and the communities in which they lived. In preparation for the annual collection, the Diocese of EriE-news took a look at the work accomplished by three women from different communities.
Sister Rose Marie Chisholm joined the Sisters of St. Joseph more than 75 years ago. In addition to her religious life, she also attended the Cardinal Glennon School of X-ray Technology in St. Louis, Missouri, where she earned certification as a registered radiologic technician. She then dedicated most of life in ministry to health care. She served as an X-ray technician and supervisor at Spencer Hospital in Meadville, Titusville Hospital in Titusville and Orthopedic Associates of Meadville. She spent more than 42 years in the radiology field.
Sister Mary Paul Carioty entered the Sisters of Mercy in Titusville in 1952. She earned degrees in education and as both a licensed practical nurse and a registered nurse. She taught in Erie diocesan schools before nursing assignments at DuBois Regional Medical and Hamot Medical Center (now UPMC Hamot). Sister Mary Paul traveled to Ethiopia in East Africa, where she served as an obstetrics and emergency services nurse in a local clinic. For 17 years, she was director/nurse at Health Care for the Homeless Project in Washington, D.C. Still active and living her motto 70 years after entering the convent, "By the grace of God, I am what I am," she is among the support staff in Baldwin Hall at her alma mater, Mercyhurst University.
Sister Rita Lynch has served in many and varied ministries since joining the Mission Helpers of the Sacred Heart in 1962. She earned a degree in psychology from Loyola University, Maryland, and served on a "mission circuit" during her early ministries in Colorado, South Carolina, Virginia and Texas. Wherever her ministries took her, she always spent some time with special-needs people. In 1993, she became full-time Catholic chaplain at Polk Center in Franklin, a state residential facility for women and men with developmental disabilities. After leaving Polk, she became an assistant for inclusion at the Sunrise Drive Elementary School in Tucson, Arizona, where her mission was to help special-needs children transition to regular elementary school classrooms. Additionally, she helped refugees from Central America find sanctuary in the United States, and she traveled to Jamaica as a representative of Food for the Poor. Sister Rita currently lives in North East, where she does family ministry and volunteer ministry with seniors. In particular, she supports local activities that serve seniors and special-needs children.
"I'm grateful for all the people who have shared their life stories with me," she says. "I see what they have done with so little and know that it's not what people have that matters; it's what is deep inside their hearts."
Please consider donating to the Retirement Fund for Religious during the weekend of December 10-11. All donations will go toward helping religious communities care for senior members while continuing important ministries.

— — —

For more information, or to donate, please visit: https://www.eriercd.org/RFR.html


-