'HUMBLED AND SORROWFUL,' BISHOP WELCOMES RELEASE OF GRAND JURY REPORT
Bishop Persico pledges continued transparency in child abuse crisis
Story and photo by Mary Solberg | nwpaCatholic.com
08/14/2018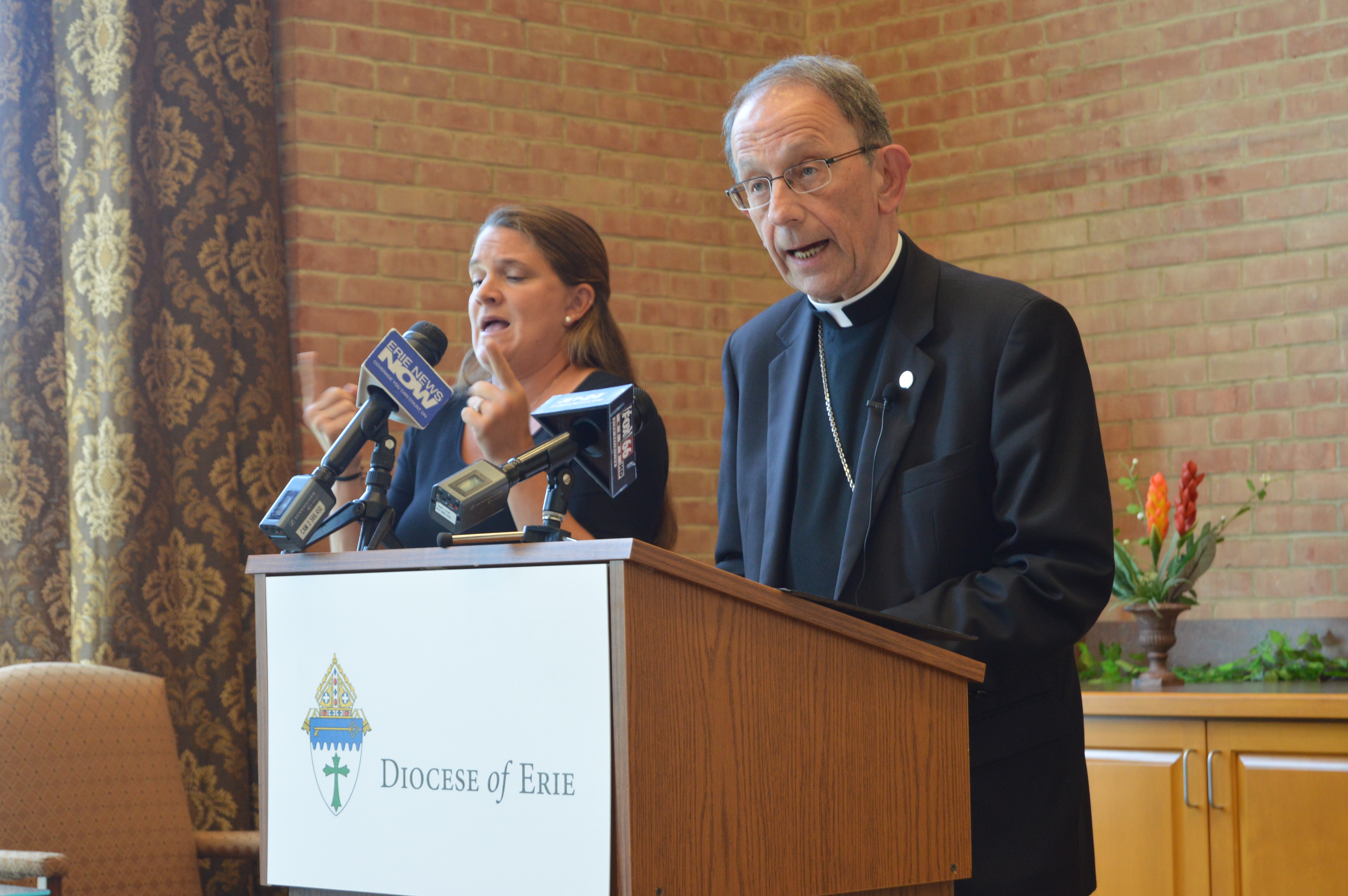 Erie Bishop Lawrence Persico expressed deep sorrow Tuesday for what he called "unimaginably cruel behavior" by priests against children in the Diocese of Erie and other Catholic dioceses in Pennsylvania.
The bishop's remarks came during a press conference at Erie's St. Mark Catholic Center shortly after the release of a long-anticipated redacted state grand jury report detailing the sexual abuse of children and the cover-up of those crimes over the past seven decades in the dioceses of Allentown, Erie, Greensburg, Harrisburg, Pittsburgh and Scranton.
Pennsylvania Attorney General Josh Shapiro discussed the findings of the 900-page report Tuesday afternoon at the State Capitol in Harrisburg. Accompanied by victims and survivors of child sexual abuse in the church, Shapiro termed the abuse committed by clergy "corrupt and unconscionable."
"The time of telling these victims to keep these truths to themselves has ended," Shapiro said after presenting case after case of assault committed by clergy throughout Pennsylvania.
At his Tuesday afternoon press conference, Bishop Persico, an outspoken proponent of releasing the investigative report, addressed victims of sexual abuse, saying, "The grand jury report demonstrates you have experienced unimaginably cruel behavior by the very individuals who should have had the greatest interest in protecting you. You were betrayed by people holding themselves out as servants of God, teachers of children or leaders in the community."
Upon the release of the report on Tuesday, Bishop Persico added another five names to the Diocese of Erie's publicized list of clergy and lay men and women who have been credibly accused of actions that disqualify them from working with youth. New names also have been added to those under investigation. The total number of names on the list stands at 72.
(See the complete public disclosure list at https://www.eriercd.org/childprotection/disclosure.html.)
A legal drama has been playing out in Pennsylvania since June, when Shapiro had planned to release the grand jury report in its entirety. But the state's Supreme Court ordered a last-minute stay after several clergy members who were named—but not charged—in the report argued that the report, if released without their comment, would violate their constitutional rights.
All six bishops of the dioceses investigated by the grand jury from 2016 to 2018 ultimately supported the release of the report. Bishop Persico was the first to say publicly that he would not take any measures to delay its publication despite what he called its "graphic" and "sobering" content.
Having led the Diocese of Erie since 2012, Bishop Persico has taken the lead in exposing—once and for all—a tragic history of sexual abuse of minors by clergy and lay people going back 70 years. He is considered to be the first bishop in the nation to publish the names of priests and lay men and women who have been credibly accused of actions or inactions related to child abuse in the church.
The grand jury brought charges in one case in the Diocese of Erie. Father David Poulson is free on bond while he awaits sexual assault charges in Jefferson County. He has been accused of molesting two boys from 2002 to 2010.
In April, Bishop Persico included Poulson's name on the public disclosure list.
In his remarks on Tuesday, Bishop Persico said he admired victims who chose to come forward and testify before the grand jury.
"It surely took courage," the bishop said. "I also understand those who did not feel able or ready to come forward in this way. As I said, each of you is on your own journey."
He pledged to continue publicizing names of anyone credibly accused of child abuse in the Diocese of Erie. And he offered to meet with any victim of abuse.
"The Diocese of Erie will not shroud abusers in secrecy—no matter who they are or how long ago the abuse occurred," he said.
Additionally, Bishop Persico has asked all pastors in the 13 counties of the diocese to open their church doors Sept. 15—the feast of Our Mother of Sorrows—from 7 a.m. to 7 p.m., allowing time for anyone to visit for private prayer during this crisis.
For Bishop Persico's complete statement on the release of the grand jury report, go to https://www.eriercd.org/Bishop-Persicos-statements.html.
-