KENNEDY CATHOLIC RAISES NEARLY $500,000
Anne-Marie Welsh
08/22/2022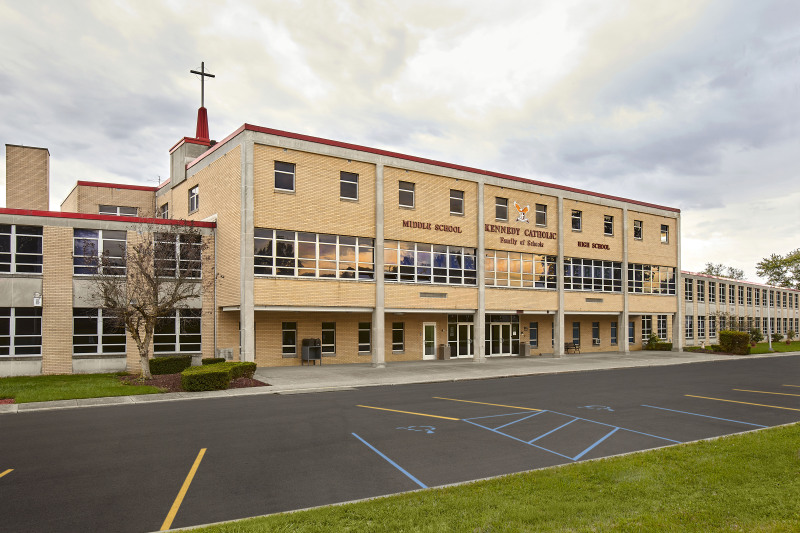 HERMITAGE — In early July, the board of the Shenango Valley Catholic School System (SVCSS) released a short statement indicating that like many organizations, it had been adversely affected by COVID-19.
"We are working very hard to ensure our schools have the resources they need for the 2022-23 academic year, as well as plans to develop a sustainable future," the statement said, noting more information would be shared in August. It was a succinct statement following a meeting of the board with current families, faculty, staff and administrators. Bishop Lawrence Persico and leadership of the Catholic Schools Office of the Diocese of Erie also were in attendance.
The meeting occurred at the request of Bishop Persico after he learned that Kennedy Catholic was facing a significant budget shortfall. After a series of intense meetings, and knowing drastic steps needed to be taken, he opted to have the board lay out the details for all who would be affected. All had the same goal: ensuring the future of Catholic education in the Shenango Valley. But the bishop wanted everyone involved to understand the reality of the situation. They would have to raise $400,000 within the month, and another $400,000 by the end of the year. If they did not feel up to the task, he wanted families and employees to have as much time as possible to make other arrangements.
It was a galvanizing moment. Less than three weeks later, the board announced the community and donors had exceeded the July goal, raising $484,000.
"It was impressive to see the community come together so quickly to secure Kennedy Catholic High School," said Jim Gallagher, superintendent of schools for the Diocese of Erie. "I am hopeful the recent momentum will continue to build so that K-12 Catholic education continues to be an option for families in the Shenango Valley."
The all-hands-on-deck effort was made possible by an array of stakeholders including current families, faculty, administration, staff, alumni, the SVCSS Advancement Committee, the Diocese of Erie and the Catholic Schools Office. The leadership of Board Chair Elizabeth Yanelli-Shreckengost as well as the return of former KCHS President Peter Iacino, who came out of retirement to serve as interim CEO, also were essential to the success of the effort.
In a letter to KCHS families announcing the first goal had been met, Iacino noted he had done a complete review and reorganization of the 2022-23 budget, identifying several opportunities for savings without reducing any programming or activities. Speaking with the Sharon Herald, he called it a "reset."
While he is confident the second goal also will be met, Iacino is looking well beyond December.
"My goal is to make sure we're on a really good, positive trajectory," he told reporter Melissa Klaric, citing goals for budget reserves, money for scholarships and financial security.
Having spent 35 years leading Kennedy Catholic, Iacino said the level of commitment and the willingness of many to help in various ways is one of the many things he remembers most fondly of his years with the school.

"Happily," he says, "it is still alive and strong."
-