PARISH FORGIVES VANDAL BEHIND BEHEADED JESUS STATUE AT LOUISIANA CATHOLIC SCHOOL
By Gina Christian, OSV News
09/18/2023
(OSV News) — A Louisiana Catholic parish and its school are mourning the destruction of a beloved, life-sized statue of Jesus — and extending forgiveness and prayers to the perpetrator — after its decapitation during the overnight hours of Sept. 12-13.

Father James Rome, parochial administrator of Holy Savior Parish in Lockport, Louisiana, told OSV News the statue, located outside Holy Savior School, had been struck sometime after 10:30 p.m. Sept. 12.

"We have not been able to locate the head of the statue," he said. "It's missing."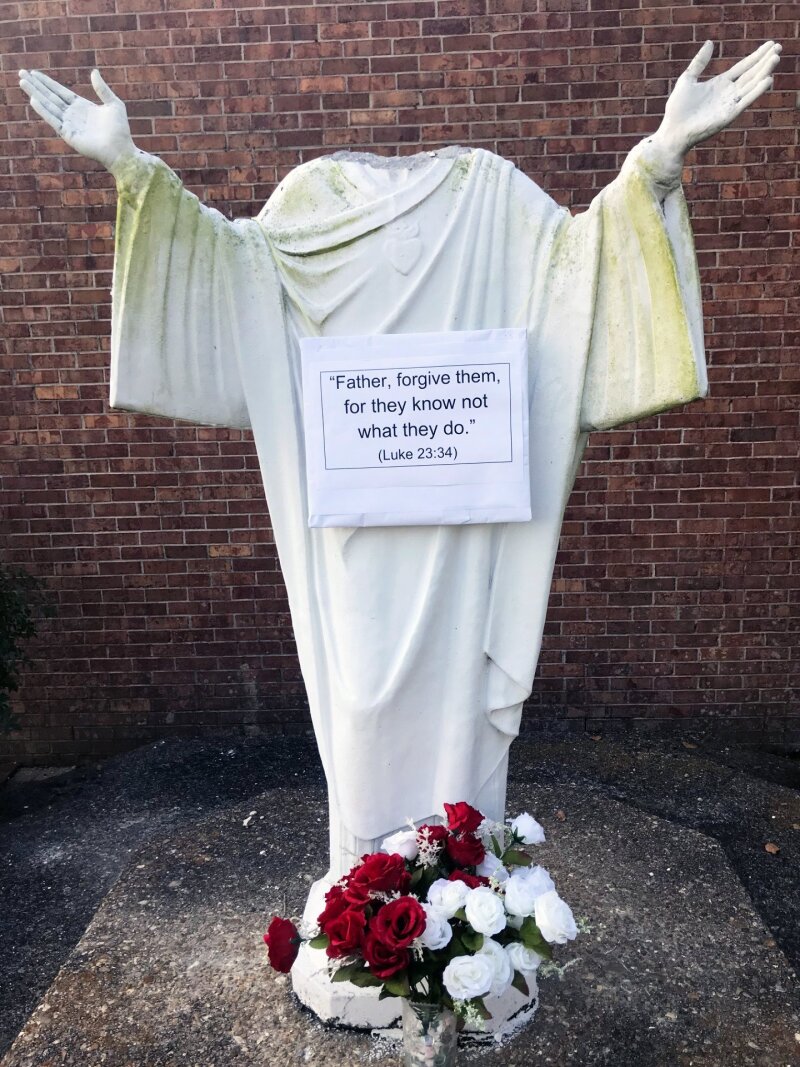 Father Rome said the statue had possibly been "hit from the back of the head," since "there were cement marks on the front side" of the figure.

The statue, which was some 50 years old, had "no rebar (reinforcing bar) in the head" and was "fully attached to the ground," he said, making it difficult for an attacker to topple the entire figure.

Security cameras have so far not turned up any images of a suspect, he said.

Father Rome said such an incident has "never happened before" at his parish or school.

"We've had some cemetery damage, but nothing like this," he said. "There are no leads."

Lockport Chief of Police David Harrelson, Jr. has asked for the public's help in solving the case.

Anyone with knowledge of this incident is asked to contact the department through the Lafourche Parish Sheriff's Office dispatch at 985-532-2808, or through Facebook Messenger.

In the meantime, Father Rome said the parish and school community will need to replace the statue altogether, since "it will not be able to be fixed."

He admitted that finding a "comparable" replica will be difficult.

"We're not even sure where we got it," said Father Rome.

He and his parishioners intend to pray for the attacker, focusing on the Gospel for the 24th Sunday in Ordinary Time, in which Christ tells the "Parable of the Unforgiving Servant" to highlight the need for forgiveness (Mt 18:21-35).

"We're just going to use this weekend's Gospel as an opportunity to reach out with forgiveness, and realize who the real enemy might be working behind this," said Father Rome. "We hope that person can come to some metanoia, some change."

Father Rome's parishioners have already taken that message to heart: the beheaded statue of Christ, with a fresh vase of red and white roses at his feet, now bears a printed sign beneath the etching of the Sacred Heart with Jesus' words from Luke 23:34: "Father, forgive them, for they know not what they do."
-