WALKING IN FAITH: DIOCESAN CATHOLIC SCHOOL ADMINISTRATION FINDS UNITY IN PRAYER
By Melanie Sisinni
09/09/2023
The Diocese of Erie hosts executive leadership meetings throughout the academic year for those in management positions in the Catholic schools of the diocese. Most often, those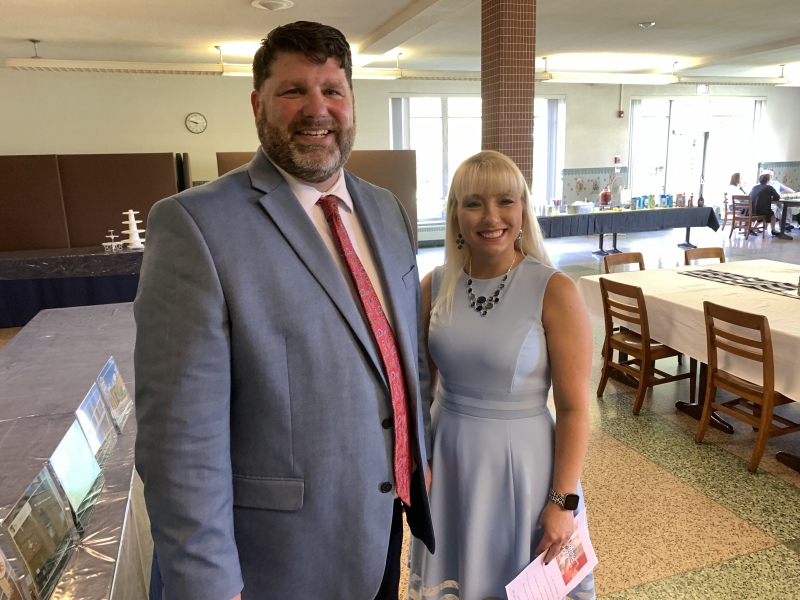 meetings take place over Zoom due to time and distance. Still, three times during the school year, principals, vice principals, presidents, executive secretaries and central office staff travel to St. Mark Catholic Center in Erie for an in-person meeting. The first in-person meeting of the current school year took place in August, during which

Assistant Superintendent Laura Blake had a plan for an icebreaker that would not only promote those in attendance in getting to know each other but would also bring prayer and spirituality to the forefront of the meeting.
"I saw the idea on Pinterest in a mom's group, believe it or not," said Blake. "I took the idea and modified it to meet the needs of our Catholic schools."
Blake had the idea for a prayer walk, during which those in attendance would be guided to pictures of the different diocesan academic buildings and asked to stop, reflect and pray for all who enter them. In this way, the educational leaders who are separated by distance could begin to feel closer to each other both professionally and spiritually.

At the beginning of the exercise, the name of each school was called out, and the principal or other representative in attendance stood next to a photo of the building. This sparked conversation as people began connecting the dots between individuals and facilities.
"It took a little longer than we thought. It was a good thing," said Blake. "Often, we are in these leader meetings, but we haven't been to each other's buildings. It allowed each leader to identify the lead learner for each site. And we could pray for each other and the students and staff of each campus."
Blake and her staff created handouts to help guide prayer and discussion following the prayer walk.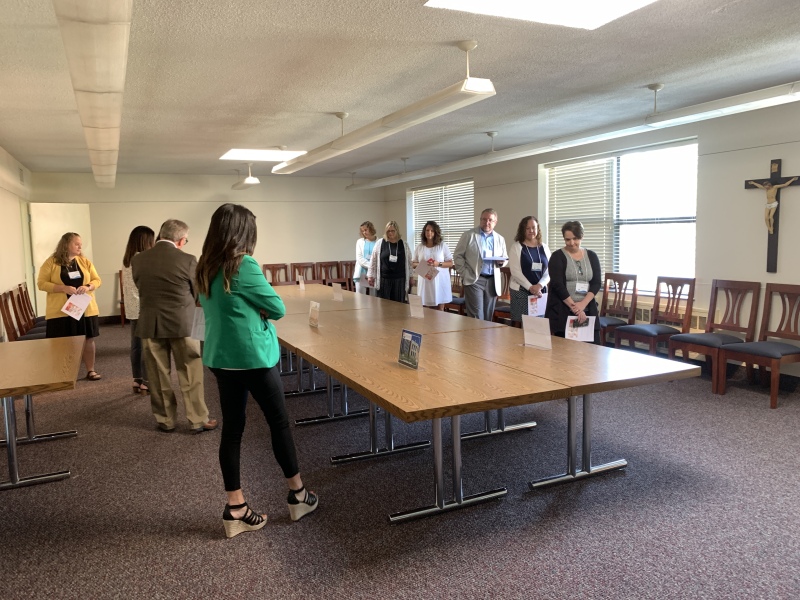 "We wanted to be intentional," said Blake. "We wanted to create something that they could take back. They are overwhelmed with all they have to do. They were able to experience the prayer walk and then go back to their campus where they could incorporate it again."
Blake said another part of the exercise was coordinating prayer partners so each person could maintain a spiritual connection with someone who would not necessarily be geographically close to them.
"They were asking for prayers for each other and offering prayers of thanksgiving. People were up and hugging each other. It was a community building event."
Kathryn Tiefenthal, principal of St. John Paull II Elementary School in Hermitage, plans to incorporate the prayer walk in her own school this year. At an upcoming staff meeting, colleagues will travel to each classroom and pray for those students and staff at St. John Paul II Elementary School. She also plans to incorporate the prayer walk idea during the open house in October, where potential families can be encouraged to visit the classrooms and pray for students and staff.

Tiefenthal said the prayer walk at the leadership meeting moved her spiritually.

"There is so much uncertainty, yet, hope that goes into each school year," said Tiefenthal. "Having the opportunity to stop and pray for all the leaders, students and families in the Diocese of Erie was truly meaningful. We are all in this together as we continue to provide a solid Catholic education for the students in our respective areas. Coming together in prayer for one another was humbling."

Though each school is separated by distance, with different traditions and events, the prayer walk brought everyone together in faith.
"You have Seton praying for St. Mike's. They're rivals on the basketball court," said Blake. "We are all on the same team of Catholic education. No one is in competition with one another. It's pretty awesome when our leaders are together to chat and celebrate each other's successes."
-