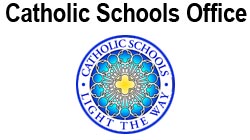 Athletic Programs
Our goal is to provide for the Christian education and formation of our children through athletics. In striving to teach the Christian values of competition, and to clearly inform all spectators of their responsibilities in attaining this goal.
Golf
Info packet to athletic directors
Participant roster form
Sudden cardiac arrest prevention form
Coaches clearances
Coaches roster form
Concussion form
Soccer
Coed schedule
JV schedule
Varsity schedule
Pregame code and prayer
Letter to athletic directors
Directions to fields
Athletic calendar
Calendar 2017-2018 (PDF)
Visit ETeams for daily scores, schedules and other updates
Eligibility
Participation and eligibility for sports - updated 2016-17
THESE FORMS MUST BE KEPTON FILE AT SCHOOL OR PARISH
(PDF) Coach Clearances that must be kept on file at school or parish
Participant / Parent Forms:
(PDF) Participant Release Form
(PDF) Sudden Cardiac Arrest Prevention Acknowledgment form — PARENTS AND PARTICIPANTS
(PDF) Concussion Acknowledgment form for PARENTS AND PARTICIPANTS
Coach Forms
(PDF) Coaches clearances
FAQs
What is the "roster fee" that is paid by each team?
CLICK HERE
for these pdfs:
Pre-game prayer
Site manager pre-game speech
Participation release form
Team roster form
Coach roster form
E-mail Doug Chuzie
, Director for Athletics