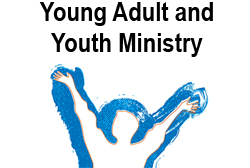 The Diocesan Youth Board (DYB) is a community of young Catholics and adult mentors who have been selected through an application process to represent their faith communities from around the Erie Diocese and is under the direction of the Office of Youth & Young Adult Ministry.
The purpose of the DYB is to form strong disciples of Jesus Christ. This is done through Formation Weekends and Adult Mentoring at the parish and school level.
Click here for the application to become a Diocesan Youth Board member.
Parish Mentors
are adults who walk with the young DYB members, not only as fellow disciples on the journey, but also as advocates in their schools and parishes outside of the Formation time.Some of the Adult Mentors will be discerned as DYB Formation Weekends
Adult Team Members
who facilitate the FW and some of the work outside of those weekends.
Click here for the application to become a DYB Adult Team Member
The Goals of the DYB:
To act as a bridge between the Diocesan Office of Youth & Young Adult Ministry and young people in their parish or school communities.
To guide young people in spiritual formation: teach them how to pray, instill in them a love for the sacraments, a passion for Christ, and a desire to be saints.
To train young people in professional development by teaching them how to work with others in the church, help them communicate and network, and help them find their strengths and identify strengths in others.
To bridge the gap between our young people who might attend the same parish community but different schools.
To empower our young people to take ownership of their faith communities, to identify needs and to work with others to fill those needs.
To bring young people together from all corners of the diocese for regional and diocesan wide projects and events.
To build a relationship between our young people and their bishop. We hope to offer different ways for the bishop and young people dialog.
To commission young people to be representatives for their local faith communities.
To train adults to become disciplers of young people.
To form strong disciples of Jesus Christ who will in turn disciple others.
For more information about the Diocesan Youth Board contact Jennifer Durney, 814-824-1219 or
jdurney@eriercd.org
, or visit the DYB links in the menu.

DYB Mission Statement
We the youth of the Diocesan Youth Board (DYB) come together in order to bring faith to the people of the Diocese of Erie through prayer, witness to others, and the example of our lives. Through inspiring events and acts of service, we strive to evangelize our peers and our communities.
DYB is open to youth in grades 8 through 12, representing their faith communities and who are:
Passionate about their Catholic faith,
Want to make a real difference in the world,
Have a desire for holiness, and
A heart to bring others to Christ.
Youth are selected through a discernment process which begins with the submission of an online application with reference letters from either a pastor or Catholic school chaplain. Once discerned for the DYB, the youth is welcomed on the board, their pastor and/or Catholic school principal and campus minister notified, and then they are given instructions to begin their DYB role with prayer.
Contact the Office of Youth & Young Adult Ministry for more information, 814-824-1219.
Who We Are
Catholic Diocese of Erie works in cooperation with other departments within the Office of Education. These include Faith Formation, RCIA, Chastity and NFP, Athletics, etc.

We entrust our work to the Blessed Mother through the intercession of St. John Paul II -- "Totus Tuus!"

Please know of our prayers for the youth of the Erie Diocese and those who minister to them.

Jennifer Durney, OYYAM Coordinator
814-824-1219
jdurney@eriercd.org



What We Do
Our mission is to develop young disciples of Jesus Christ. We do this through:
Discipleship programming for youth,
Opportunities for training, networking, and fellowship for leaders, and
Support and resources for young adults.
Our goals are:
Encourage leaders become strong mentors,
Guide the young church grow toward a deeper relationship with God,
Challenge leaders and youth to live an authentically Christian Catholic life,
Empower the young church to be bold disciples,
Inspire the young church to disciple others.
Who We Serve
The Office of Youth & Young Adult Ministry serves...
thirteen counties of Northwestern Pennsylvania
a Catholic population of about 222,000
geographically the largest diocese in the state
covering 10,167 square miles
primarily rural, farm lands, fields and forests
1 large city, Erie, and 2 medium metropolitan areas, Sharon & Meadville.
117 parishes and 18 missions,
about 184 clergy
326 religious women
8,494 students in elementary, middle and high schools for the 2011-2012 school year;
close to 11,750 children and youth in religious ed