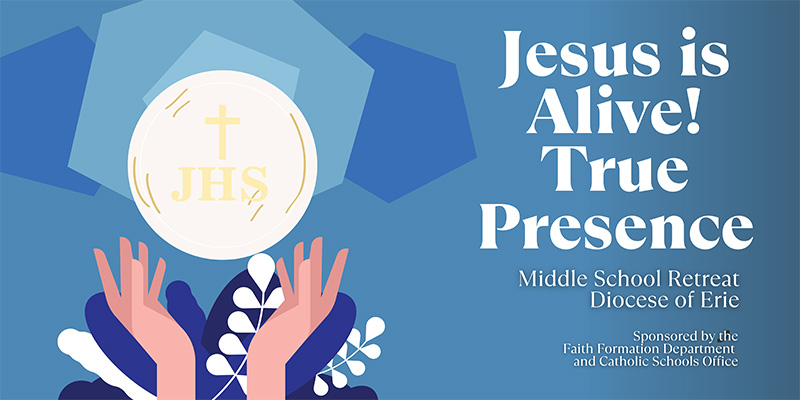 Fast Facts
Location:

There will be a NET Retreat hosted in each region (vicariate) of the Diocese.
• North and West: St. Brigid, Meadville on October 29th
• East: St. Boniface, Kersey on October 28th
Start time:

At all locations and on all days, 6-8th graders are asked to arrive at 10 AM.
End time:

The retreat ends promptly at 3:15 PM.
Cost:

$10. The Diocesan Faith Formation Department and Catholic Schools Office are covering the cost of the retreat team, lunch, snacks, and t-shirts for all the retreatants. Also, we are beyond grateful to all our host sites for housing and ministering to the NET Retreat team. Please consider making an additional donation that will go to the host site on the given day your student is attending.
What do students need to bring?

A bible and a reusable water bottle
Questions:

Contact Jillian Zaczyk at jzaczyk@eriercd.org
Please note: NET Retreats have a cap of 120 students, so spots are

first come first serve.

We cannot hold spots, and every student must register individually.
COVID protocols: We will be following appropriate guidelines as they are in the fall. There will be no vaccination or negative COVID test required at this time.


What is a NET Retreat?
NET Ministries retreats are designed for students in grades 6-8th grade. The NET team will travel to your Catholic parish or school to conduct the retreat.
The mission of the traveling NET teams is to provide momentum for events in the existing youth programs present in the parishes and Catholic schools hosting the team. NET retreats are designed to present youth with the truth of who they are as God's children and how true joy and meaning in life are found by accepting Christ's gift of salvation and living as His disciple.
Every NET retreat includes an extended time for the youth to pray and be prayed with to make a personal response to God's invitation.
NET retreats include:
• 12 trained NET missionaries
• Retreat setup and cleanup
• Retreat talks
• Small group discussions
• Games: general + "Gospel-based"
• Skits
• Moving dramas
• Music
• Guided prayer time
• Men's and women's sessions*
• Prayer labs*
• Recreational time*
• Confession/adoration*
The NET Retreat for 2023 is Jesus is Alive: True Presence. Is Jesus Christ truly present in the Eucharist, and if so, how does that change our lives? The life of Bl. Carlo Acutis, a teenager who is on his way to becoming a canonized saint, answers those questions by showing us that we don't need to be very old to recognize the beauty and utmost importance of the Eucharist.