Transitions
Transitions is a peer ministry of the Diocese of Erie that provides a safe place for grieving the loss of one's marriage because of divorce, death or separation. By offering monthly support groups and periodic specialized programs, Transitions offers companionship and hope to all who are currently traveling the journey of grief. Following a short program, participants will have an opportunity for reflection, sharing and discussion. An average of 25-35 women and men of all ages and stages of life attend this support group regularly. Each program includes reflection, sharing, discussion and refreshments.
The next Transitions meeting: September 29, 2019
Time: 2-4 p.m.
Topic: "Stress and Relaxation Chair Exercises" with guest speaker, Joan Fels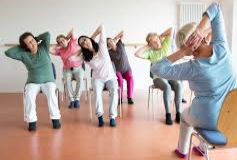 Attending Transitions is free of charge!
Please bring a notebook and a snack to share.
Transitions meets at:
St. Mark Catholic Center
429 E. Grandview Blvd.
Erie, PA 16509
(follow signs to the entrance)
Google Map: St. Mark Catholic Center
Download Transitions brochure
Call 814-824-1265 for more information or send an email.
*All programs are offered the last Sunday of each month unless otherwise noted
Future dates:
September 29, 2019
October 27, 2019
November 17, 2019* (special program)
December 15, 2019*
Kate Wilson
, Director
Family Life Office
429 E. Grandview Blvd.
P.O. Box 10397
Erie, PA 16514-0397
Phone (814) 824-1261 • 800-374-3723
Fax (814) 824-1264