Tuition assistance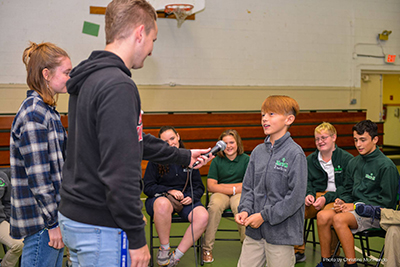 For parents
One application may be used for both the Bishop's Tuition Assistance Program and the STAR Foundation. Download a copy of the tuition assistance application or overview below. Applications for tuition assistance are also available at any Catholic school in the diocese. See application for due dates.
Tuition Assistance Application - The 2024-2025 school year tuition assistance application is being revised with a target completion date of mid-January 2024.

Tuition Assistance Overview and FAQs (PDF)
Questions? Contact:

Sam Signorino
STAR Foundation Manager
(814) 824-1188
Click here to send email
About tuition assistance
The Diocese of Erie provides approximately $3 million in tuition assistance for elementary and secondary schools. Individual schools also sponsor tuition assistance programs. For information on school-based tuition assistance, contact the school directly.
Your children may be eligible for two separate scholarship programs offered by the Diocese of Erie: The Bishop's Tuition Assistance Program and the STAR Foundation. You only need to apply once to be eligible for both scholarship programs.
The Bishop's Tuition Assistance Program for Elementary and Secondary Schools
The Diocese of Erie annually provides tuition assistance for those students in need who wish to attend one of our elementary or secondary schools. Awards are made based solely on financial need.
For contributing businesses
Business Application Links
STAR Foundation – EITC Business Application
STAR Foundation – OSTC Business Application
STAR Foundation Tuition Assistance
Businesses can receive credits for certain types of taxes paid to the State by making a contribution to the STAR Foundation of the Diocese of Erie. The Commonwealth of Pennsylvania's Educational Improvement Tax Credit (EITC) program allows companies to receive up to 90 percent of their contribution in tax credits (to approved Pre-K and K-12 educational institutions). Businesses may also receive this tax credit by participating in the Opportunity Scholarship Tax Credit (OSTC) program.
Contributions may be designated to Catholic elementary school(s) and/or high schools. The STAR Foundation allocates the contributed funds to children of qualified families whose children are enrolled in a Catholic School within the diocese.
If you own a business and are interested in participating in the EITC or OSTC programs through the STAR Foundation, please see the link below. You will need to complete the appropriate application.
If you have questions or need more information please e-mail your inquiry to the STAR Foundation at
starfund@eriercd.org
.