Return to Election home page

Links to other topics:
The Dignity of Life | Education | Environment | Health Care | Immigration | Racism | Religious Liberty

---
Poverty



The Gospels demonstrate how Jesus saw dignity and value in every living person, especially those on the margins and those discarded or overlooked by those in authority. His example of charity and love for others inspires within the human heart a desire to serve the less fortunate. Catholics should consider how candidates will support policies that improve economic conditions for and protect the vulnerable.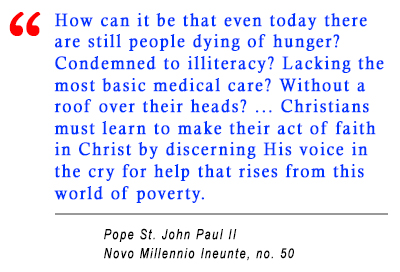 A Place at the Table can be found at https://www.usccb.org/resources/place-table

Questions about poverty to ponder as you consider a candidate:

• Does the candidate promote policies that protect the most vulnerable citizens and foster the creation of jobs, with acceptable working conditions and just wages?

• Has the candidate discussed day-to-day realities with the poor and shown creativity in collaborating on new solutions for their challenges?

• Does the candidate support affordable housing and transportation policies for low- and moderate-income families and individuals?