Return to Election home page

Links to other topics:
The Dignity of Life | Education | Environment | Health Care | Immigration | Poverty | Religious Liberty

---
Racism



The Catholic Church condemns racism, and the U.S. bishops have addressed it in their letter, Open Wide our Hearts. In it, they state, "...racism still profoundly affects our culture, and it has no place in the Christian heart. This evil causes great harm to its victims, and it corrupts the souls of those who harbor racist or prejudicial thoughts."

Archbishop José Gomez, president of the USCCB, offered helpful insights into a path forward in response to the killing of George Floyd and subsequent unrest.

"We should all understand that the protests we are seeing in our cities reflect the justified frustration and anger of millions of our brothers and sisters who even today experience humiliation, indignity and unequal opportunity only because of their race or the color of their skin," he said.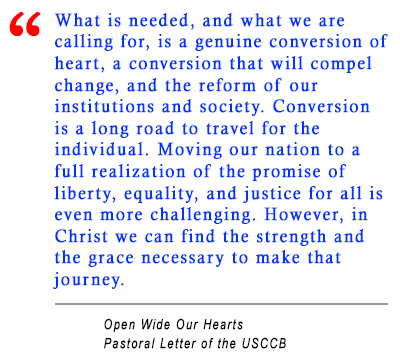 Calling for listening, he acknowledged a truth offered by Rev. Martin Luther King Jr., who said that riots are the language of the unheard.

"But … nothing is gained by violence and so much is lost," the archbishop continued. "Let us keep our eyes on the prize of true and lasting change. Legitimate protests should not be exploited by persons who have different values and agendas. Burning and looting communities, ruining the livelihoods of our neighbors, does not advance the cause of racial equality and human dignity."

The full text of Open Wide Our Hearts is available at www.usccb.org/issues-and-action/human-life-and-dignity/racism/upload/open-wide-our-hearts.pdf

Questions about racism to ponder as you consider a candidate:

• Does the candidate support dignity, equality and diversity in all facets of American life?

• Does the candidate recognize the problems created as a result of past injustices, and is the candidate committed to addressing them?

• Does the candidate promote a balance between justice for all and respect for law enforcement?