Faith magazine feature: BEYOND THE GOAL: PARISHES USE CATHOLIC SERVICES APPEAL TO PAY FOR IMPROVEMENTS
02/20/2019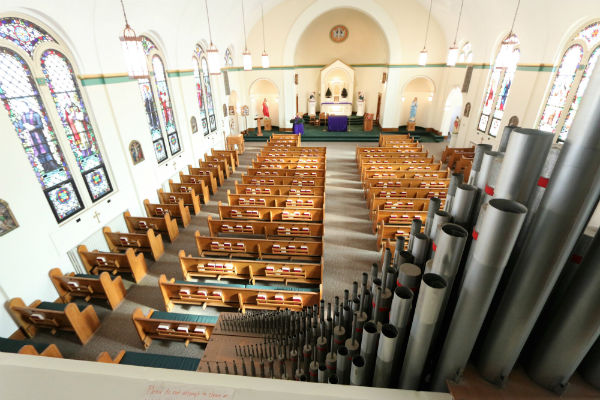 Churches are the spiritual homes of some 200,000 Catholics in northwestern Pennsylvania.

And like all homes, the bricks and mortar — not to mention roofs and carpets — start to age and fail. The buildings that make up a parish community require upkeep that is all too familiar to most homeowners.

That, of course, means an investment of money, especially if those buildings are 50, 75 or more than 100 years old.

Fortunately for all parishes in the Diocese of Erie, there's an opportunity to raise the necessary funds to pay for expensive repairs and/or upgrades. When parishioners come together and donate more than the parish's annual Catholic Services Appeal goal, the church gets to keep the extra money.

Two parishes in the diocese — one in North East in Erie County, and another in West Middlesex in Mercer County — have benefited from parishioner generosity. Their extra CSA dollars have helped pay for projects that fall outside the parishes' annual budget.

For Father Thomas Brooks, pastor of St. Gregory Thaumaturgus Parish in North East, the bonus CSA monies meant improving the church sound system and completing a necessary kitchen renovation project.

The sound system includes a loop in the main church and choir loft that can be programmed into someone's hearing aide. Helping the hearing-impaired to fully participate in the Mass is the greatest benefit.

"It is now loud and clear. The new system is fantastic," Father Brooks says.

Previously, St. Gregory also used excess CSA funds to finish the final piece of its kitchen renovation project. The work included adding new appliances, new flooring and an updated fire suppression system over the stove.

For the St. Gregory community, as for most families, the kitchen and dining area is an important gathering place. Theirs is used by various social groups, as well as for funeral dinners and lunches.

Other parish CSA projects at the North East parish have included the addition of a wheelchair lift, new carpeting and more parking space.

"People here really like the CSA because they like to see things get done," Father Brooks says. "It's really been a great blessing."

Church of the Good Shepherd Parish in West Middlesex also has been able to check things off its wish list, thanks to CSA. Father Glenn Whitman, pastor, says that 2018 was all about technology.

All parish buildings now have Wi-Fi accessibility, and religious education classrooms and larger gathering areas now offer projection capabilities and smart televisions.

"It gives more flexibility to the teachers," Father Whitman says.

Additionally, the parish can use the new technology to project memorial videos during funeral luncheons.
-