Faith magazine feature: CHANT: EVER ANCIENT, EVER NEW
Mary Solberg
11/28/2018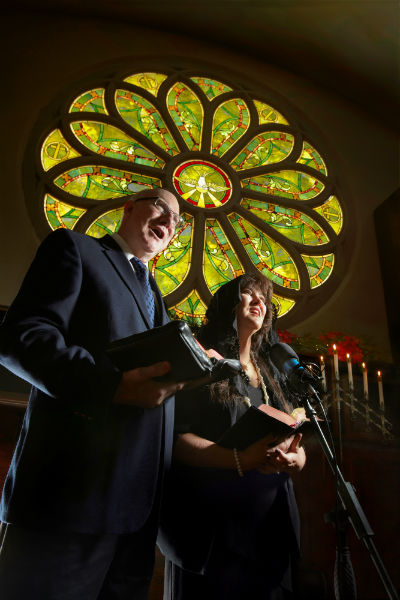 Ruth Kowalski spent many years as a child and teenager performing on the road with the Farnen Sisters, a song-and-dance act comprised of her siblings.
In the 1970s, they sang with the Grammy-winning band Buck Owens and the Buckaroos. They also did several stage performances and even movies with Paul Newman and Bette Davis.
A natural talent, Kowalski continued singing professionally until the early '80s, when the Farnen Sisters disbanded. Today, at 58, she lives in the Erie County community of McKean. But it wasn't until she learned Gregorian chant at St. Casimir Church of Our Mother of Sorrows Parish, Erie, that singing lifted her into a deeply spiritual realm.
This month, she will be chanting the age-old Advent and Christmas hymns Veni Emmanuel ("O Come, O Come, Emmanuel"), Veni, O Sapientia ("Come, O Wisdom"), and Puer Nobis Nascitur ("A Child is Born"). She describes the feelings that overwhelm her.
"The church has been singing these same Advent and Christmas hymns for a millennium. That blows me away," Kowalski says. "I imagine Therese the Little Flower or Padre Pio singing them. This is the history of our church, and saints have been singing the same thing and feeling the same way as I do. The music takes you away; it surpasses time."
She is rightfully transported.
For more than 1,400 years, Gregorian chant has held what a 1963 Vatican II document (Constitution on the Sacred Liturgy, Chapter VI) describes as "pride of place," or first place, in the Catholic liturgy. Its ancient sounds were first collected and codified by the music-loving Pope Gregory I during his papacy from 590 to 604 AD.
"Chant is a simple, beautiful and natural way of putting music to the words that we pray," explains Father Christopher Singer, chancellor of the Diocese of Erie. "Among other legitimate forms of music, it has had a very high 'pride of place' in the liturgy for centuries. It allows the liturgy to be noble, simple and beautiful and allows the people to participate in it."
The ancient sounds of Gregorian chant are not confined to the Extraordinary form of the Mass, or what is commonly referred to as the traditional Latin Mass. Chant also can be sung in all Catholic Masses, both in Latin and in English, and is even encouraged by the current Roman Missal, issued in 2012, as the primary accompaniment to the liturgy. As the traditional music of the Roman Catholic Church, it holds preeminence, but is not the principal music sung in most Catholic parishes in the United States today.
Kowalski and her singing partner, Tim Clint, also of McKean, chant a capella, without accompaniment, at the Latin Mass every Sunday at St. Casimir. Only one other church in the diocese, St. Anthony of Padua, Cambridge Springs, offers the traditional Latin Mass.
Once a month, Father Jamie Power, parochial vicar at St. George Parish, Erie, celebrates the liturgy of the traditional Latin Mass at St. Casimir and St. Anthony. He also enjoys chanting in English at St. George, where he invites the congregation to join him in singing the preface and the "Our Father" at Sunday Masses.
"I follow the traditions of the church and what is recommended to us by the Second Vatican Council," Father Power says. "The great benefit of Gregorian chant, and any chant, is that it has stood the test of time. It has developed over more than 1,000 years and across cultures and, ultimately, is done in the service of God."
At English-language Masses, priests are encouraged to incorporate chant where appropriate and helpful. Those clergy with a musical background and a good voice tend to feel more comfortable singing parts of the Mass.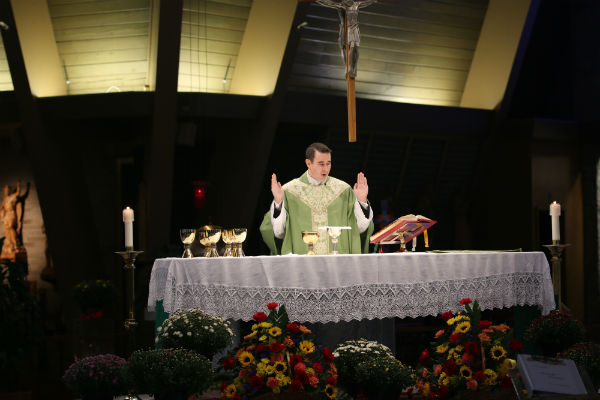 Father Matt Kujawinski, pastor of Immaculate Heart of Mary Parish, Mercer, and Father Ian McElrath, parochial vicar at St. Joseph and St. Stephen parishes in Oil City, both have an appreciation of music and some musical training. They enjoy taking Latin melodies and adapting them to English, particularly in the preface and at Communion.
It can be so natural, they say, that people don't even realize they are chanting in the ancient tradition of the faith.

"The norm in the Roman rite was that the Mass was entirely chanted, including readings. The idea of speaking would have shocked people from 1,000 years ago," Father McElrath says. "To incorporate it now in our current Mass is an acknowledgment of our history and has the potential of unifying Catholics across the globe."
Since Father Kujawinski was ordained in 2003, he has used chant when offering Mass.
"Most of the dialogue parts between the priest and the people, according to the Roman Missal, are in chant settings," Father Kujawinski says. "Some may think it makes Mass longer, but it doesn't. When you add chant, it's just an elevated form of speaking. All the prayers are directed at God. It gives a touch of solemnity."
SAVING CHANT FOR POSTERITY
After Vatican II, when the Mass began to be celebrated in the dominant language of the culture in which it was said, the Latin Mass and Gregorian chant began to slide in popular use.
According to Matt Clark, administrator of the Office of Worship for the Diocese of Erie, "Bishops of the United States began to move toward an English Mass. There was excitement about that and people asked, 'How do we do music with this?' The bottom line was that Latin wasn't as attractive anymore because the Mass was now said in a language that everyone understood."
It was about that time that Tim Clint began to wonder where all the Latin hymns had gone. At age 25, he was president of the parish council and a member of the choir at Our Mother of Sorrows Parish in Ashtabula, Ohio. He had just visited a bookstore in Cleveland where he found several recordings of Gregorian chant.
"Having lived through the changes in the church, I had a love of this style of music that wasn't necessarily heard anymore," Clint says. "It wasn't nostalgia, but rather an interest in a musical form that had suddenly disappeared. I was entranced by this music."
When someone in the parish choir told Clint that they were going to throw out the Latin chant music, he grabbed all the sheets and books, saving them for posterity.
"When I discovered Gregorian chant, it was music to my ears," Clint adds. "The sad thing was that the church for more than a millennium had a repertoire of music that was simply being thrown out."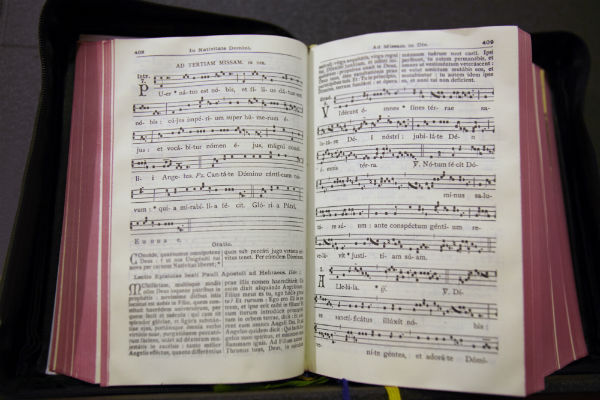 AN UNADORNED QUALITY
The unadorned quality of chant lends itself to what many people consider the mysterious, otherworldliness of the music. Usually performed a capella, chant is "pure melody," according to Dr. Susan Treacy, professor of music at Ave Maria University in Florida.
"Chant rhythm is free rhythm, that is, randomly alternating groups of two or three notes. You can't beat time to it. You can't march or waltz to it. It gives it a timeless quality because you cannot pin it down to a regular meter. That gives it a timelessness," Treacy explains.
Nationally recognized for her research in Gregorian chant, Treacy has spent 25 years directing Gregorian chant choirs at both Ave Maria and Franciscan University at Steubenville. She says chant is "oriented to God."
Matt Clark also believes chant helps us focus on the meaning of our words of praise.
"That is why the church gives chant 'pride of place,' because it always places the music in service to the words," he says.
Treacy points to Viderunt Omnes ("All Have Seen the Salvation of our God"), which is sung after the first reading in the last Mass of Christmas Day. In that song, a single syllable of the word "Lord" (Domino) is chanted using 51 notes.
For some priests, including Father Brian Vossler, pastor of St. George, holding a note that long is nearly impossible. "I love to chant," he says, "but I don't have the breath control to sustain it."
Treacy compares chant to St Augustine's famous reference to his relationship with God: "Ever ancient, ever new."
"Chant is ever ancient, but ever new," Treacy says. "It was not composed for any other purpose but for the praise of God. It is beautiful, edifying, humble music."
-