PULLING STRINGS TO MAKE THE WORLD A BETTER PLACE
Anne-Marie Welsh
06/27/2018
Elisa Guida may only be 4 feet, 11 inches tall, and the
La Petite Jeweler's business she has owned and operated for 40 years may sound tiny and quaint. But from the time she was a teenager, she's had nothing but big responsibilities and big ideas.
One of her biggest adventures is now as demanding and fulfilling as she expected it would be when she first dreamed it up: StringsforaCURE, a 501(c)(3) nonprofit charitable organization that combines her skills as a jeweler with her commitment to breast cancer patients and survivors.
"I did not have a plan for StringsforaCURE," she says. "I simply decided to see where it was going to take me."
It has come with a price, as so many good things do. It has meant letting go and it has meant sacrifice. But in her no-nonsense, big-city style, she doesn't hesitate to state the truth:
"My little charity," she admits, "is making a big difference."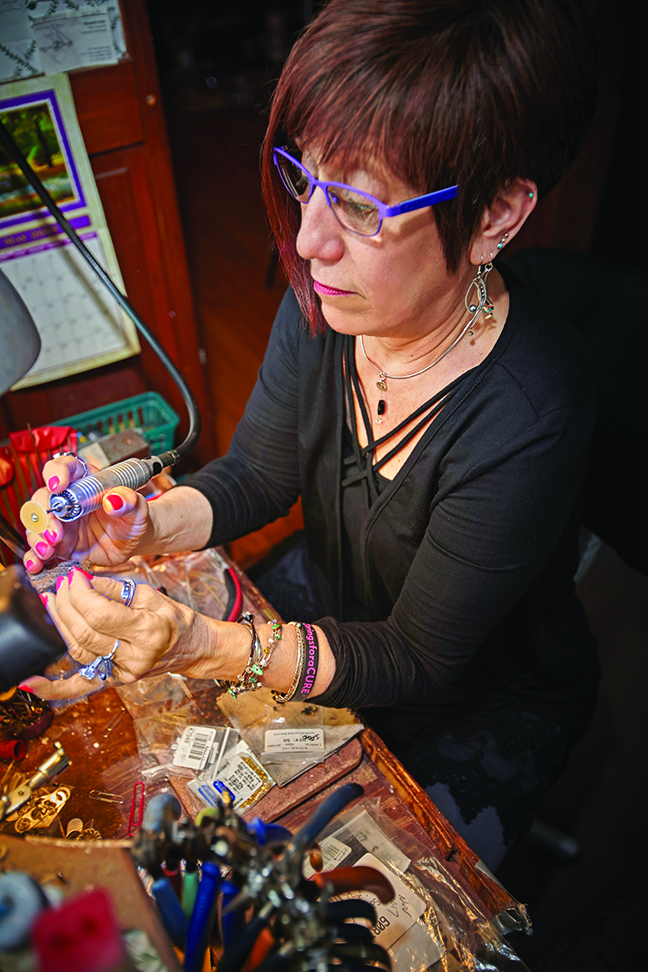 A native of Philadelphia, Elisa headed to Mercyhurst University at the age of 17. Although she has remained a rabid fan of Eagles football — rabid may be an understatement — she has never looked back. For many years, she was happy to prove that it was possible to make a living with a degree in art. It didn't take long before her reputation as a custom jewelry designer allowed her to purchase a home in Erie, with a studio and storefront on the first floor and living space upstairs.
In 1994, she married Ed Saloum. Nine months later, as she describes it, when she was hoping to hear the words, 'You're pregnant," she, instead, was stunned to hear, "You have breast cancer."
There was nothing to do but move forward, so she did, keeping the doors to her business open as she had a lumpectomy followed by radiation. For the next nine years, she would feel the residual effects of the operation — numbness in the right arm — the one she uses to create jewelry. But it never stopped her.
In 2005, Elisa and Ed headed to Santa Fe for a vacation, in part, to celebrate 10 years of being cancer-free. Although she'd had a few questionable mammograms in recent years, doctors assured her it was scar tissue.
"Yadda, yadda, yadda," she says, dismissively waving her hand. Still, something was gnawing at her, and when she returned, her doctor suggested a biopsy. Her instincts had been correct — the cancer was back.
She went into research mode, and opted for a mastectomy without reconstructive surgery — an approach that is typically not the norm, although Elisa is careful to underscore that each patient must make the choice that is right for herself or himself. She sailed through the procedure, crediting a prayer service for healing at her home, shared with a member of St. George Parish in Erie, prior to surgery.
"The visiting nurse couldn't believe my progress," she says. "She brought another nurse to the next visit because she'd never seen anything like it."
True to form, Elisa got back to work as soon as she could.
Unbeknownst to Elisa, the wheels had begun to set things in motion for StringsforaCURE as early as 2007. That year, a journalist for the Erie Times News, Kara Rhodes, asked if Elisa could create a piece of jewelry made from a guitar string used by Kara's soon-to-be-husband.
"To be honest," Elisa says, I had never heard of anything like that. So, I looked online. I have to admit it seemed like jewelry-making 101, but I made the bracelet and got back to my work with gold and diamonds."
Presuming it would be a once-and-done order, Elisa was surprised when inspiration struck her at a Bon Jovi concert she attended with Ed a year later. Grabbing her ticket, she scribbled a note to herself: "I should be getting famous musicians to donate their used guitar strings, so I can design jewelry with them." That's when StringsforaCURE was born.
She liked the idea. But she hesitated. Somehow, Elisa knew that if she went down that road, there would be no turning back. She was well aware of how much blood and sweat it took to create a business. Now in her 50s, did she really want to start a nonprofit to help breast cancer patients? Ultimately, it was her mother, Mary, who helped to tip the scale. During a 2010 visit to her daughter, Mary made a simple, direct and life-changing comment.
"You've been talking about this for two years," she said. "If you want to do it, you should just do it."
Elisa could have started creating the jewelry on the side, fundraising for other organizations. But that's not really her style.
"I was all in," she says. "I wanted to make sure the money raised would go directly to help patients and survivors. I knew I needed to start my own charity."
The learning curve was steep, but with the help of Bob Whooler from the Non-Profit Partnership, and a committed board member, Linda Bliley, StringsforaCURE was granted 501(c)(3) status in the summer of 2012.
To date, she has created jewelry with authenticated,
used guitar strings from more than 100 artists ranging from Bon Jovi, Chris Daughtry and Melissa Etheridge, to Todd Rundgren, Lyle Lovett and Willie Nelson. Sales of those items are now only 10 percent of the funds raised by StringsforaCURE, which has grown by leaps and bounds.
The effort has encroached on her jewelry business, although the most she'll allow is that she is semi-retired from La Petite Jeweler's. She doesn't hesitate to say God wanted this to happen, so there's a certain fearlessness as she and her board have developed numerous ways to support breast cancer patients and survivors, from gift cards to living-expense grants.
But that's not quite the whole story.
Just as StringsforaCURE was hitting its stride, Elisa and Ed brought Elisa's mom, who was now widowed, to Erie for a visit. Mary took ill during the stay.
"My goal was to nurse her back to health," says Elisa. But it soon became evident Mary would need full-time care.
Elisa and Ed made the commitment to that care in 2011. Mary, who is now 94 years old, has been living with them ever since.
Let's review. Elisa is working as a jewelry designer, running the StringsforaCURE foundation, and she's providing full-time care for her mother.
Yes, there's dependence on prayer — some days more than others. And yes, she's experienced sadness and disappointment. She's hopeful she and Ed will eventually have the chance to travel again.
"I have a few questions I want to ask God when it's all said and done," she says, unblinkingly.
Yet in spite of the demands, she finds the energy for all of it — with a little flair to boot. She got her mother into coloring with pencils several years ago, so for Mother's Day this year, Elisa rented space at Mosaic Erie and hosted an afternoon art show where friends and acquaintances came to honor this newly minted artist. The artwork sold out.
As for StringsforaCURE, seven years into the initiative, and with help from a variety of efforts, including the annual Pickin' on Cancer fundraiser, the organization reached a milestone in December, having given out more than $250,000 to breast cancer patients .
But there are other numbers that mean more to Elisa. As of May 21, 2018, StringsforaCURE had helped more than 1,742 breast cancer patients in 44 states, giving out nearly 2,000 gift card grants nationally and having approved 67 medical grants, 18 living-expense grants and nine educational scholarships to local breast cancer patients and their familes. That is a total of $264,188 given directly to breast cancer patients through the StringsforaCURE foundation.
Looking at the challenges and rewards of it all, Elisa sums it up with her characteristic candid manner: "We have been blessed."
For details about how to purchase the jewelry, how to support StringsforaCURE or how breast cancer patients can apply for grants, visit www.StringsforaCURE.org.
-