Faith magazine feature: THE POWER OF THE PAW
Mary Solberg
11/28/2018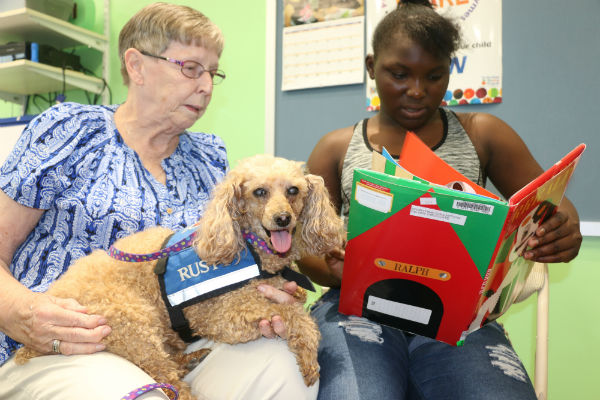 There's the power of prayer, of course, but for Erie Benedictine Sister Carol Ann McLaughlin and her dog, Rusty, life also depends on the power of the paw.
For nearly 10 years, this nun-canine team has brought joy, understanding and encouragement to young and old alike throughout the Erie area. Certified as a therapy dog through the Erie-based Therapy Dogs United, Rusty is 16. That's 112 in dog years, but he's still going strong along with Sister Carol Ann, who is 82.
"I'll do this as long as I can," she says.
By the looks of it, so will Rusty.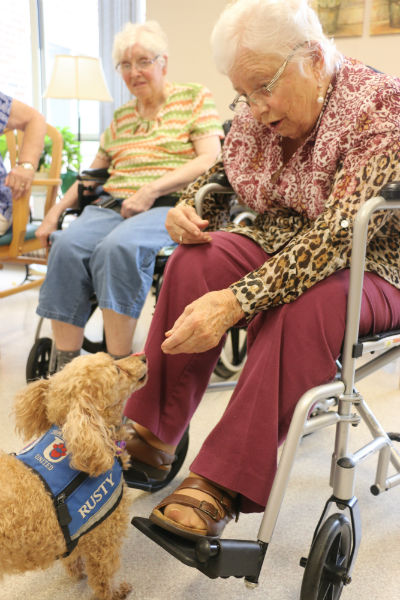 A miniature poodle, he maintains an active schedule with Sister Carol Ann, with whom he lives in a room down the hall from the infirmary at Mount St. Benedict Monastery in Erie.
The pair minister to the Mount's infirm sisters, some of whom are enduring dementia and other health issues. They also visit the infirmary at the Sisters of Joseph motherhouse, as well as at Saint Mary's Home at Asbury Ridge and East. Once or twice a month, they join other dogs and their handlers at Erie County's Blasco Library, playing with children from Erie Heights and the John Horan Apartments.
As if that were not enough, they also spend time with students during finals week or orientation weekends at Edinboro University of Pennsylvania and Gannon University. Sister Carol Ann's background as a certified dialysis technician seems to be a natural fit when they bring companionship to patients and families in the outpatient infusion center at Hamot Hospital in Erie.
"I think that dog therapy really helps," Sister Carol Ann says. "I think it takes whatever people are thinking about, whether it's their disease or whatever, and just puts it all into a new perspective. People's whole personalities seem to change when a dog walks into a room."
About 12 years ago, Sister Carol Ann and the late Benedictine Sister Rita Groner acquired Rusty after his owner died. Only 4 at the time, Rusty began taking obedience classes. He eventually passed his canine good citizen test, which is required to be a therapy dog.
They had heard about the nonprofit Therapy Dogs United (TDU), which was founded in Erie in 2008 by Pat Christianson. About a year later, Rusty passed all his certification requirements, including showing a good temperament.
Today, Rusty is one of about 200 certified therapy dogs in the Erie area. TDU also has 280 dogs in the Pittsburgh area and some in western New York.
"We call it the power of the paw," Christianson says. "Rusty certainly has it. He can do a full range of visits with seniors as well as with kids. He easily transitions. And anytime we need someone to fulfill a difficult visit request, like in a hospice situation or some tragedy or illness, Sister Carol Ann steps right in. She is able to acclimate quickly when others may become too sad."
In 2012, TDU named Sister Carol Ann and Sister Rita volunteers of the year. Four years later, Sister Rita passed away, but the ministry has continued. Rusty received the American Kennel Club (AKC) badge for performing more than 100 volunteer hours. He's far surpassed that now, Sister Carol Ann says, having logged at least 1,000.
Erie Heights kids like third-grader Selena Dehaas and fifth-grader Ornella Remadji enjoy playing with Rusty at Blasco's children's library. He generally sits quietly while they read to him, but he also can get a little rambunctious, even in his old age and with cataracts.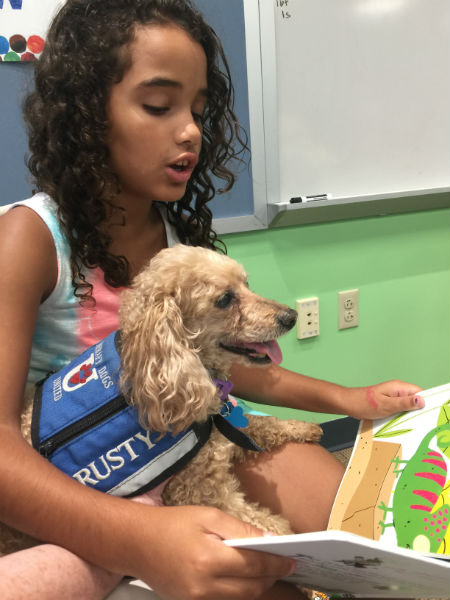 When looking for treats, he moves quickly from person to person —
not begging, but staring until they finally give in.
"He's like flowers and butterflies, and he's sweet because he listens to us. He can be a little bit crazy sometimes, too," Selena says.
Jamal Sharif, an Erie Heights adult chaperone, says Rusty "works the crowd" for treats, but he's patient enough to stop when the kids are reading books to him during the reading hour at the library.
"When the kids read, they're not afraid to make mistakes because they're reading to dogs. Dogs don't judge them," Sharif says.
Lori Metalonis, a librarian at Blasco's children's library, says therapy dogs like Rusty build a child's confidence.
Some of the kids who participate struggle with reading, so an animal listening to them makes a big difference.
"Some kids come in and say, 'I don't like dogs,' but by the end of the hour, they're sitting there reading to them, which is really amazing to see," Metalonis says.
But Rusty wouldn't be Rusty without Sister Carol Ann's endurance. Bonnie Tarcia, another dog therapy volunteer, says Sister Carol Ann, despite her age, never seems to stop.
"She puts the rest of us to shame with her energy," Tarcia says. "We all share what's happening in our days, and she just listens to our tales. She keeps us going and gives us therapy, too."
-