God, family & beer
Straub Brewery taps into faith
Mary Solberg
06/01/2019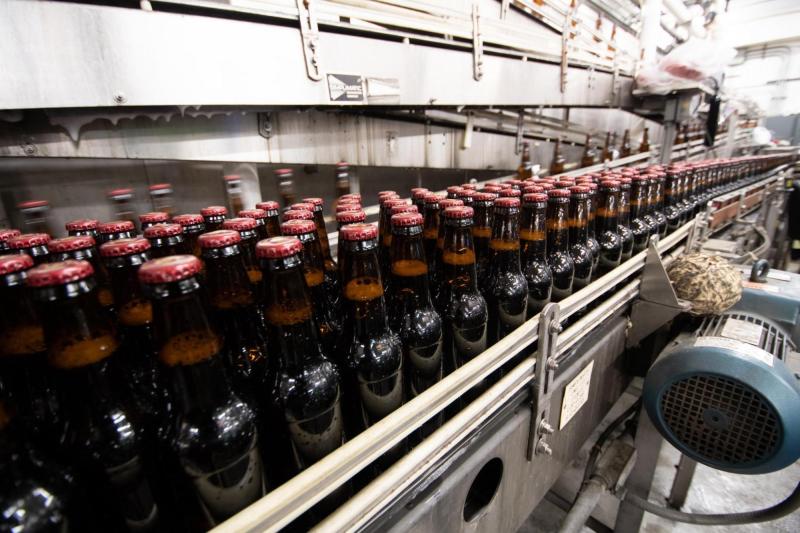 In the 1940s and '50s, Patty Straub absorbed all of the sights and sounds surrounding the family beer business in St. Marys, a small rural community in Elk County, Pennsylvania.
Straub Brewery, situated practically in her backyard, was a mainstay of the local economy. Trucks came and went with red-banded kegs of beer created from a recipe brought to America in 1869 by Patty's great-grandfather, Peter Straub.
Oftentimes, she'd see groups of men walk into the brewery after a hard day's work at local farms and metal factories. They were headed toward free-flowing ale provided by a reportedly mystical source: Straub's trademark "Eternal Tap."
As long as anyone can remember, Straub has offered — at no charge — a glass or two of cold beer to visitors. It's an "Eternal Tap" that continues today to attract thousands of tourists and locals each year.
Says Patty Straub Brock, now 82: "Some people would ask, 'Is it true that there's a pipe of beer coming out of the brewery?'"
Not exactly.
During regular business hours, anyone visiting the Sorg Street brew house can belly up to an industrial-size sink and pour themselves up to two beers from the tap. It's actually three taps — Straub American Light, Straub American Lager and Straub Amber. Visitors are only asked to clean their glass when finished.
The tap is like a shrine to the eternal principles of Christian hospitality that have kept Straub Brewery going since Peter Straub founded it in 1872.
"Once people have been to the tap, they're part of the family that belongs to the brewery," says Father Paul Taylor, a fourth-generation member of the Straub family who serves as an advisory member of the board of directors, as well as its chaplain.

'Holding the keys' to a legacy

Considered the third-oldest family owned brewery in the United States — certainly the oldest beer manufacturer in the Diocese of Erie in northwestern Pennsylvania — its long-term success can be attributed to three things: God, family and beer.
"That's true," says Patty, who for 25 years served as the company's first woman chair of the board of directors before retiring. "It's a part of who I am."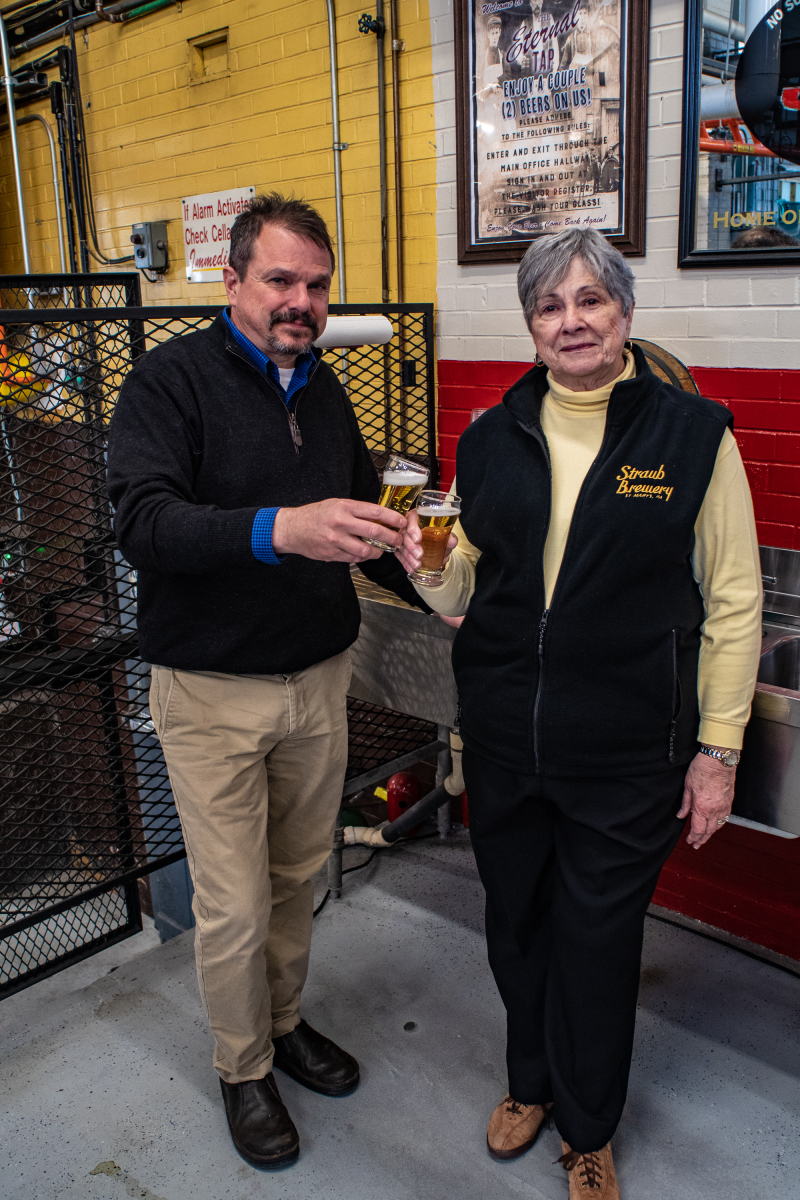 Her son, Bill Brock, 53, is president and chief executive officer. Some may even call him the keeper of the "Eternal Tap" for the 21st century. Ten years ago, members of the family asked him to lead the business, which found itself in the midst of an increasingly competitive beer market.
In the past 35 years, the number of breweries in the U.S. exploded from 50 major brew houses to more than 7,000 today, Brock says. Straub expanded its specialty beer production to keep up with a surging craft industry.
Its flagship lagers are available year-round, but it brews another 12 to 15 specialty beers for sale at different times of the year. The 1872 Pre-Prohibition Lager is a tribute to Peter Straub's original recipe.
"When the question of the brewery's success comes up, I try to remember the modesty of my grandfather, Carl Straub. He worked hard and was very proud of the brewery, but he also saw it as a gift handed down to the entire family by his grandfather," Brock says. "In many respects, my tenure at the brewery is all about 'holding the keys,' making sure that the company is in a better position when I leave than when I arrived."
With the encouragement of his mother and fourth- and fifth-generation cousins who currently serve on the board, Brock and his staff devised plans to open a Straub Visitor Center and Tap Room this summer. Located in one of the family's original homes nearby, it is expected to complement local tourism, which includes the many attractions of the Pennsylvania Wilds region, including elk viewing.
"Everyone is worried that we'll close the "Eternal Tap" when the new Tap House is open, but it will stay," Brock insists.

Faith makes good business sense

Since Peter Straub's time, the brewery has been committed to the well-being of the tight-knit, mostly Catholic community.
For more than a century, it has provided leftover "wort," or ground malt and mashed grains, to local farmers as a feed for animals. Peter and his wife, Sabina, also ran a dairy farm. They often shared bottles of milk with families in need.
In recent years, Cathy Lenze, vice president of sales, marketing and public relations, joined forces with John Schlimm, a fifth-generation Straub, to organize a pub crawl fundraiser. Partnering with 12 local taverns, their effort netted more than $20,000 for local charities.
"For me, the intersection of business and faith has always been that we are stewards," says Schlimm, who serves on the board. "Our family has really tried to give back in so many different ways."
Today, descendants of Peter and Sabina are active parishioners of St. Marys' three flourishing Catholic parishes. And it's not unusual to find vocations to the religious life in the family tree.
One of Peter Straub's sons, the late Father Gilbert Straub, was a Benedictine monk from Saint Vincent Monastery in Latrobe, Pennsylvania. Ex-officio board member Father Taylor is executive vice president of Saint Vincent College in Latrobe. And Bill Brock's brother, Father Herald Brock, CFR, serves as a Franciscan missionary.
Says Annie Koch, a fifth-generation Straub and board member: "I don't think we'd be as good a business if it weren't for the faith we were raised with. We need to make money, but we're concerned with the person as well."
For Bill Brock, holding the Straub Brewery reins in a new millennium could be daunting without his Catholic faith.
"Daily, I suppose, my faith and beliefs have defined my sense of fairness," he says. "They have also defined the boundaries of my business ethics and acceptable business practices, how I treat competitors and adversaries, and when and how I show compassion as well as forgiveness. Growing up and being raised in a healthy Catholic culture helps set these parameters both personally and professionally — and really, it must be the same moral compass for both."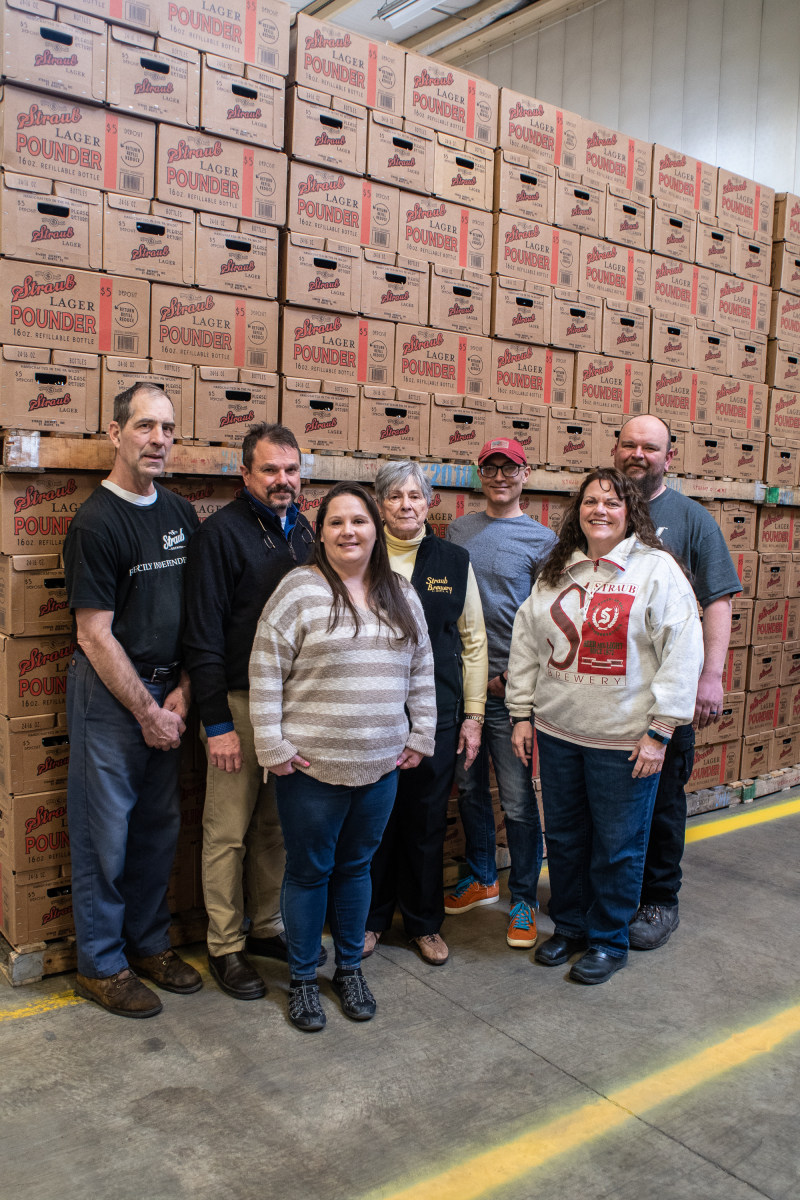 Family roots are strong at Straub Brewery. Several family members are employed there today and more than 100 own at least one share of stock in the company.
For the past several years, Straub's executive team and board members have attended an annual retreat away from the plant. Business is conducted, but time also is set aside for morning prayers, Mass, inspirational discussion and fun. Even at the end of regular quarterly board meetings, Father Taylor will often preside at Mass.
And don't forget Lent. For a couple of Fridays during those 40 days, employees are treated to a fish fry lunch from local establishments.
Brewmaster Vince Assetta also is infused with this spirituality. Educated along with Bill Brock by the Benedictines at Saint Vincent College, he sees the natural connection to the monastic tradition of brewing.
"To me, the biochemical processes that occur when you mix the simple ingredients of water, barley, hops and yeast … it hearkens to God as the creator of the natural world," Assetta says.
For 147 years, Straub Brewery has shared that inspiration. Maybe it all goes back to free beer.
As Straub's award-winning brewmaster explains: "I see that Benedictine hospitality and family hospitality at the 'Eternal Tap.' It says, 'Come into our work home and enjoy a couple of beers with us.'"

******Check out Straub Brewery at the 2019 Beer on the Bay event July 27 from noon to 7 p.m. at the Highmark Amphitheater, 726 W. Bayfront Parkway, Erie.
-