THE YOUNG CHURCH
Exploring the role of young people in the Catholic Church
Schuyler Stupica
06/27/2018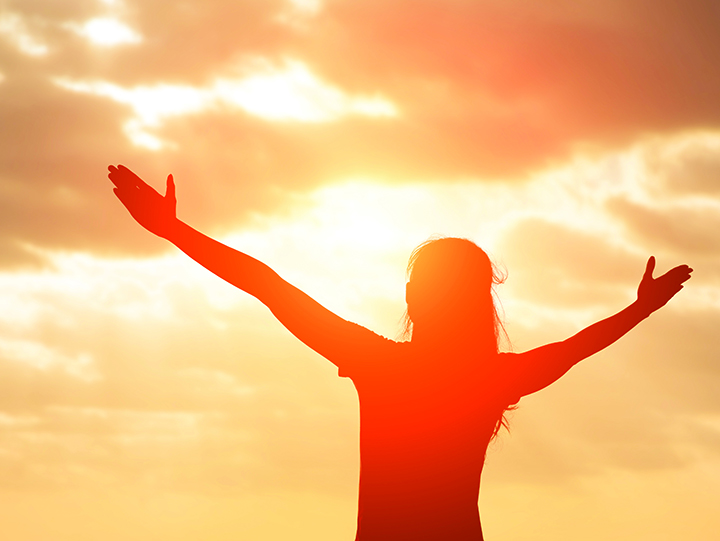 It is tempting to become discouraged by the research: Americans, particularly high school and college students, are increasingly choosing not to identify as Catholic, while the percentage of religiously unaffiliated Americans is on the rise. In our rapidly changing and progressively secular culture, young people are questioning — and leaving — the church at seemingly unprecedented rates.
"What I found," she says, "gave me reason for optimism and excitement, not despair. The church is not dying. It is becoming more authentic."
What follows is her first-person account of the conversations she had.
Truth, not fluff

The Catholic Church of the 21st century is trying to respond to a myriad of controversial issues, ranging from abortion to LGBTQ rights. Young Catholics want to talk about it.
"They want to tackle real issues," says Dr. Greg Baker, a former campus minister at Mercyhurst University who was recently promoted to vice president for mission. "They don't want to shy away from it. They get frustrated when they feel like homilies are 'safe' and correct. Let's talk about these issues and feel free to speak with some boldness."
Father Jason Feigh, campus minister at Cathedral Prep, sums up what his students want from the church in a simple phrase: truth, not fluff. He says pastoral leaders need to be honest with young people, and need to listen to their challenges and doubts.
"These kids are thrown a lot of adult problems at younger and younger ages," he says.
"They want to know why we believe what we believe. Our kids don't want gumdrops and daisies; they want truth."
Everyone I talked to said a similar thing: young people are yearning for authenticity, and they are yearning for adults to listen to them. Young Catholics want pastoral leaders who know them personally, are willing to have meaningful and sometimes difficult conversations and live out the faith in concrete ways.
Oftentimes, authenticity also requires pastoral leaders to admit they don't have all the answers. Questions of faith are complex, and young people are much more likely to respond positively to a dialogue than to a lecture.
"Young people are looking for pastoral leaders to be personally accessible," says Baker. "It's OK not to have it all figured out. It's OK not to have a perfect answer to everything. It's OK to have struggles, and to acknowledge that."
Meaningful opportunities for dialogue and reflection are key components of the young church. In their quest for authenticity, young people are bringing the church back to its roots. Retreats, service projects and traditional practices such as confession and Eucharistic adoration are taking off — not only because they allow students to be contemplative amidst their hectic schedules, but also because they help students form authentic relationships and feel involved.
"Young people in general are looking for ways to easily connect to the church," says Lauren Habursky, a student at Mercyhurst Preparatory School in Erie. She would like homilies to be more accessible and Masses to be more personal.
Matt Ahrens, also a student at Mercyhurst, says his parents tend to use formal, structured prayers. His prayer life, on the other hand, reflects his generation's move away from formalities. For Matt, a prayer before a meal goes something like this: "Hey God, it's me again. Thank you so much for this food and please help everyone that doesn't have it. Amen."
A desire to see justice
In addition to searching for what is true, young Catholics are fighting for what is just.
"They know that things in the world aren't the way that they would like them to be, but they are persistent and they want to change that," says Jennifer Durney, who serves as coordinator of the Office of Youth and Young Adult Ministry at the Diocese of Erie, as campus minister at Penn State Erie, and as director of religious education at Blessed Sacrament Parish, Erie. "And that makes me very hopeful."
Young Catholics are products of a multicultural, multi-religious, interconnected world, and are more likely than older generations to embrace diversity and demonstrate a heightened awareness of inequality and injustice. They want the church to be more welcoming — not just in word, but in deed.
"You don't have to convince them that there are other voices in the room," Baker says. "While what we claim to be true and what we believe strongly to be true is important, there needs to be a respect for other people around us. And I think young people get that really well."
This compassion and respect for different lifestyles sometimes creates conflict. It has prompted many young people to question church teaching on issues of sexual morality.
Father Steve Schreiber, chaplain at Mercyhurst Preparatory School, says the church's stance on homosexuality comes up often in his conversations with students. Many of them have a friend or family member in the LGBTQ community, and do not understand why the church opposes gay marriage.
"Young people have hearts that are so full of love and compassion," he says. "Yet sometimes, loving a person requires that we say: 'I think you are operating outside of God's plan here.' That's a difficult challenge not only for youth, but for adults as well."
This generational clash is not going away, and many young people hope it will inspire serious conversation, and perhaps change, in the Catholic Church.
Rules are not important
Young Catholics also stand apart from older generations in that they are more likely to challenge church authority. They are more likely to approach religion in an individualistic way, and tend to be selective about which parts of Catholic tradition they practice and believe.
"They're more apt to really seek out things that they're looking for," says Durney. "They're not just accepting everything that's given to them; they're questioning, which is awesome."
Durney says young people today are good at "shopping for churches." While their grandparents likely remained loyal to one parish no matter what, young people often search for the music and homilies that speak to them.
"They want everything to be an individual experience, in a community setting," she says.
Father Mike DeMartinis, campus minister at Villa Maria Academy in Erie, has noticed this phenomenon in his youth groups as well.
"The rules are not important to them," he says.
Students tell him that simply using the term "youth group" makes them hesitant about going, because it sounds like a formal group they must belong to and attend every week. Instead, students ask to know what he has planned and then be allowed to decide if they want to come. And they may not come for everything.
"One of the things they say is, 'Let it happen naturally,'" Father DeMartinis says. "They say, 'You can have a topic, but if it spins in a different direction, let that be. Trust it.' And I love that."
Taking all of this into account, Baker suggests the church will have to move from a "compliance-based model," in which people do things to follow rules or fulfill obligations, to a "conscience-based model," in which people are invited to do things because of the meaning and value those things might have for them.
"Few [young people] will accept a person or institution as true, right or authoritative just because of the claims they make to their own authority," Baker says.
Instead, he says, authority must be earned through authenticity and integrity. The church and its leaders can earn this respect by forming relationships with young people, creating spaces for meaningful dialogue and modeling a real commitment to serving others.
"Do we treat faith as rules and regulations, staying in a box, or do we treat it as an authentic relationship that can be lived out and experienced in every facet of our life?" asks Father Feigh.
Young Catholics overwhelmingly prefer the latter.
Pope Francis
It is no secret that Pope Francis is wildly popular among young Catholics. He has more than 17 million followers on Twitter and is widely admired for his humor, humility and genuine commitment to social and environmental justice.
"We have a great example in Pope Francis," says Father Feigh. "He communicates the truth in a way that [young people] are open to hearing … He communicates the love of God and his church at the most relevant level without shortchanging the faith."
Pope Francis has earned the respect of young people by modeling his life after Jesus. He lives in a humble apartment and washes the feet of prisoners and Muslim refugees.
Young people also appreciate that the Holy Father focuses less on controversial moral issues, such as contraception, abortion and gay marriage, and more on the church's fundamental teachings about love and service to others.
Letting young people lead
Although the youth ministers I interviewed are observing significant changes, not one of them expressed pessimism about the future of the church. Rather, they expressed a resounding confidence in young people's ability to lead.
"They know how to navigate this culture," says Baker. "They bring a joyfulness, a creativity, a mischief that I think we need as a church. Truth with a frown isn't very appealing. Truth with a smile and a soft edge, with compassion, is incredibly appealing to people."
Durney is also excited about the direction the church is going.
"I'm very optimistic," she says. "When you go out and actually meet face-to-face with some of these students, and see the things that are happening beyond what you see on the screen, and see how they're interacting with each other, there's a lot of hope out there."
Father DeMartinis urges pastoral leaders not to be afraid of the changes they are seeing.
"You just have to say, 'This is the way it is, so I'll work in these new parameters,'" he says.
What exactly does the future of the church look like?
"Smaller and more dedicated is how I see it," says Father Schreiber.
That might not be such a bad thing.
"I'm not worried about our church," Baker observes. "I know there's a lot we could be worried about right now; a lot of trends aren't tipped in our favor. But faith is alive and well among a lot of young people who understand this world in ways better than I do. They have a deep compassion for others, a real sense of wanting things to be just. And I have a lot of hope that young people, if we're willing to let them, can really help us through these great conundrums that we feel we can't get past."
I asked the Erie high school students quoted earlier in this essay what being Catholic means to them.
"To me, to live as a Catholic means to be accepting of all others and to work toward following in Jesus' footsteps. It means I am willing to help people in any way possible and to do things for the sake of others, not myself," says Lauren Habursky.
Matt Ahrens gives a multilingual answer:
"Love. Amor. Liebe. Yêu. Miłość. Whatever language you speak, we should all have the same goal. Love your neighbor as yourself," he says. "Living as Catholics, we are called to serve. There's a reason there are no guidelines on how to love, so do whatever you can to the best of your ability."
That sounds like the kind of church I can get behind.
*****Author's note
As a Catholic college student trying to understand my faith in the 21st century, this story was more than a project for a summer internship; it was a spiritual journey. The people I interviewed made me proud to be Catholic. Their joyous faith and openness to change and wisdom about how the church can navigate this new century affirmed my Catholic identity and provided comfort in my questioning and doubt.
I have always felt that the teachings of Jesus compel me to serve the poor, welcome strangers and protect the earth. I would like the church hierarchy to put more energy and emphasis on these issues. Like many young people, I am figuring out how to reconcile the love I have for the church with the frustration I sometimes feel about the things it chooses to emphasize. However, I love the direction Pope Francis is taking us, as I believe he is returning the church's focus to where it belongs.
I am incredibly hopeful about our church's future. I see my generation embracing faith in action, serving others and following Jesus's example of reserving judgment. I hope the global church, like the youth ministers I interviewed, trusts us enough to lead.
-
-