Theology on Tap energizes young adults
Mary Solberg
06/01/2019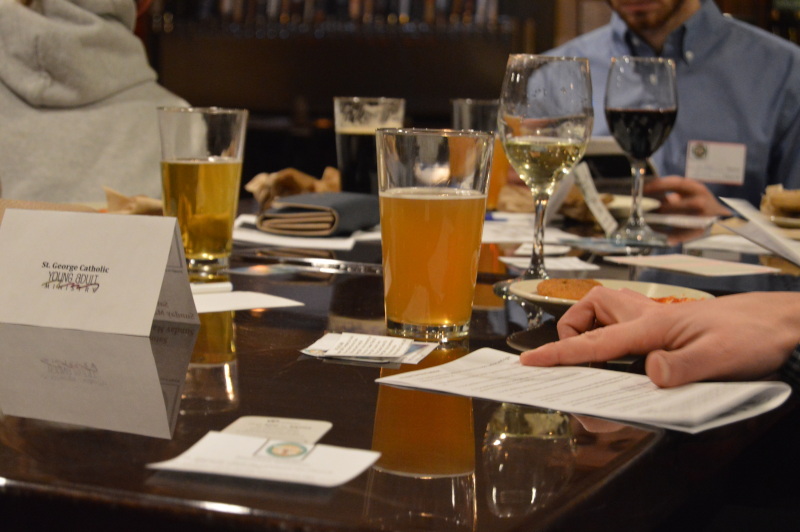 For Gannon University junior Kevin Paton, beer brought him closer to his faith.
Actually, it wasn't so much the consumption of beer but the conversation surrounding it that prompted him to get more involved in his Catholicism.
When he turned 21, he started attending Theology on Tap (TOT), one of the Catholic university's most popular extracurricular activities. Students gather at a downtown Erie brewery or restaurant to share a drink and hear a speaker discuss a current topic related to religion or theology.
"Theology on Tap was a stepping stone to growth in my faith," says 
Paton, a math major from Silver Spring, Maryland. "It was a way for me to get my foot in the door with campus ministry and it really helped me grow in my relationship with God."
First founded in the Archdiocese of Chicago in the early 1980s, TOT's goal is to invite young adults between the ages of 21 and 35 to share their faith in a casual atmosphere.
In 2018, about 50 parishes or dioceses in the U.S. offered TOT, according to Pete Fiore, director of sales and marketing for RENEW International, which owns and operates the program.
Chapters pay a small fee to acquire the rights to use the name and logo in promotions. In turn, RENEW provides organizational assistance.
"I get five or six inquiries a week about starting a group," Fiore says. "Theology on Tap is an excellent vehicle among young people to evangelize, not only amongst themselves, but the wider community."
The Catholic Church, Fiore says, needs to provide more faith-based opportunities for this hard-to-reach demographic. The Pew Research Center, in 2015, estimated that the median age of Catholic adults in the U.S. was 49. Only 17 percent of Catholic adults are under age 30.
"Bars are still probably the most populated place on Friday nights," Fiore says. "It seems to me that's where young people go, so we have to meet them wherever they are."
Gannon has offered TOT for roughly 20 years. Its popularity has surged in the past few.
According to Brent Heckman, director of Gannon's campus ministry, TOT evenings are offered eight times a year. Anywhere from 75 to 95 students attend each event.
"Theology on Tap, in general, is not really intended to serve people who are already deeply entrenched in their parishes," Heckman says. "It's about being in a more public place and putting ourselves out there and inviting others into the faith."
This year, St. George Parish in Erie joined the growing list of TOT programs. It's a dynamic and vital outreach, say Theresa Walsh, coordinator of the parish's young adult ministry, and Father Brian Vossler, pastor.
St. George held four TOT events in January and February, then two in May. Two more are planned in June. About 20 people attend each night, listening to speakers discuss such topics as the sexual abuse crisis, tools for incorporating prayer into everyday life, and God and the cosmos.
"I'm passionate about young adult ministry," Walsh says. "This is a demographic that needs to be supported and encouraged."
The parish estimates that there are only 546 people between the ages of 22 and 35 who are members. The total parish population is 4,800.
"This is an organized way to get people to talk about their faith in an informal setting. Why not bring the church where they are?" Father Vossler says.
Mike Gregory, 26, and his girlfriend Katy Holland, 27, attended the first TOT organized by St. George.
"I like the idea of bringing a young group into a more common setting. It feels comfortable and also introduces a topic of faith. That appeals to me," Holland says.
Dave Connolly, 23, also attended the same evening.
"I think this is a good starting point for people our age to at least step up and come talk about these kinds of issues," he says.
The next TOT events sponsored by St. George are June 3 and June 17. For more information, email Theresa Walsh at cya@stgeorgeerie.org.

-